British man who recovered from Covid-19: "I came back from the world of the dead"
On July 26, 17 Covid-19 patients who had previously been in critical condition were discharged from the HCM City's Covid-19 Resuscitation Hospital. 
One of them was Piers Birtwistle, 53, a British man who has lived in Vietnam for over eight years.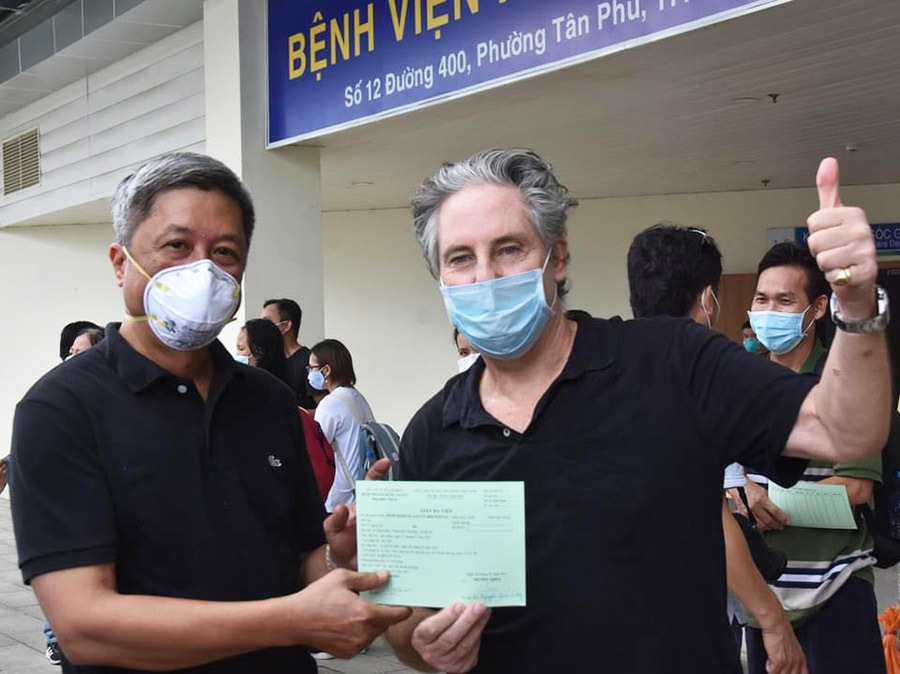 Mr. Piers Birtwistle receives a hospital discharge certificate from Deputy Minister of Health Nguyen Truong Son. Photo: K.N.
He said two weeks ago he had difficulty breathing and was tired, so he contacted the health agency to get tested and got a positive result for nCoV. Two days after being diagnosed with the disease, he quickly fell into a severe condition, with high fever, difficulty in breathing, in need of oxygen support, and was transferred to the Covid-19 Resuscitation Hospital.
He said that he had been treated with care and dedication by doctors and nurses. "The food at the hospital was good. I am pleased to be treated here. Now that I'm back home from the dead, I'm very happy," said Piers Birtwistle. He also thanked the medical staff and Vietnam who took care of him.
The Covid-19 Resuscitation Hospital began operating on July 5, with 1,000 beds, specializing in the treatment of severe and critical patients. Dr. Nguyen Tri Thuc, director of the hospital, said that in the past 10 days, the hospital has received 400 patients, including 83 critical cases who have gradually recovered and been transferred to other hospitals for further treatment.
On July 26, 17 patients were eligible to be discharged from the hospital. These people had negative nCoV test results and PCR tests had low virus levels (CT>30) so they were eligible for hospital discharge. "These were all severe or critical patients with a variety of clinical features. But with the efforts of the medical team, the patients have recovered completely," said Dr. Thuc.
The Ho Chi Minh City Center for Disease Control (HCDC) said that on July 25 alone, the city had 2,115 patients discharged from hospitals, bringing the total number of recovered patients since the epidemic broke out in the city to 14,704 people.
Tu Anh

Dr Pham Trong Nghia suggested that the Government have scenarios on epidemic developments with different levels, possible impacts, solutions and policy adjustments in both the short and long term.