Borrowers fall into trap of low-interest loans offered online
Scammers are impersonating officers of online lending apps, promising loans at low interest rates in order to appropriate money from people.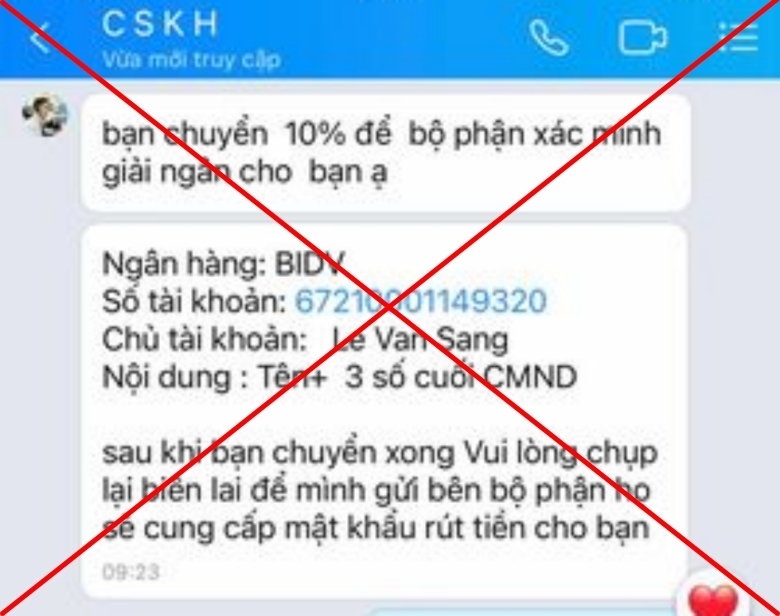 Pham Quang K, (mobile phone 9371587xx), said he received a call from a man named Mai Anh (0931536583), who said he was an officer of Fiin Credit and offered a preferential loan to K.
The man talked about the procedures K had to follow and then asked K to prove his solvency by remitting an amount of money to Anh. However, as K was always on high alert, he could not be deceived.
In another case, N.T.T.T in HCM City said a man, who introduced himself as an officer of Fiin Credit, called her and showed her how to download app, registered for preferential loan via website www.fq888.cc. After that, she received a notice which said the loan was approved and that she had to remit 10 percent of the value of the loan to the lender to prove her financial capability.
T discovered suspected signs and asked the man to meet her at the office of Finn Credit, but the man did not turn up. Later, she contacted Fiin Credit and realized that the subject tried to deceive her into giving him money.
Meanwhile, many other people have fallen into the traps. Dang D (mobile phone 08687236xx), remitted 10 percent of the value of the loan to the lender to prove his capability to pay debts as requested. After the remittance was completed, D could not contact the subscriber.
Ngo N. (03332934xx), said someone called from 0772311110, inviting her for a preferential online loan. She was also asked to remit money to prove financial capability. After receiving money from N, the lender disappeared.
According to Tran Viet Vinh, CEO of Fiin Credit, many people only realized that they were deceived after directly calling Fiin Credit.
"Of the people who called us and reported their cases, 21 remitted money to scammers, totaling VND529 million," he said.
Le Minh Hai, CEO of Tienngay.vn, said scammers impersonated his company to appropriate people's money. They asked borrowers to make a deposit equal to 10-30 percent of the value of the loans.
Tran The Vinh, CEO of Tima, reported the same problem. His clients said they were informed that there were loans for them, though they had not registered for loans. When they were asked to remit money, they immediately realized that the lenders were scammers. One man in Bac Giang was cheated out of VND4.5 million, and Tima helped him report the case to Bac Giang Police. 
Thai Khang

The Ministry of Information and Communications (MIC) has informed the public to be wary of incoming calls from overseas telephone numbers that could be scams or blackmail attempts.

Gang members got acquainted with Vietnamese women, declared their love for them, and then presented them with gifts.