Border Defence Force makes HCM City ports friendlier for foreign vessels, crews

Getting into and out of ports in HCM City has become easier for both foreign vessels and their personnel after the HCM City Border Defence Force made procedures electronic following a new Decision issued by the Prime Minister.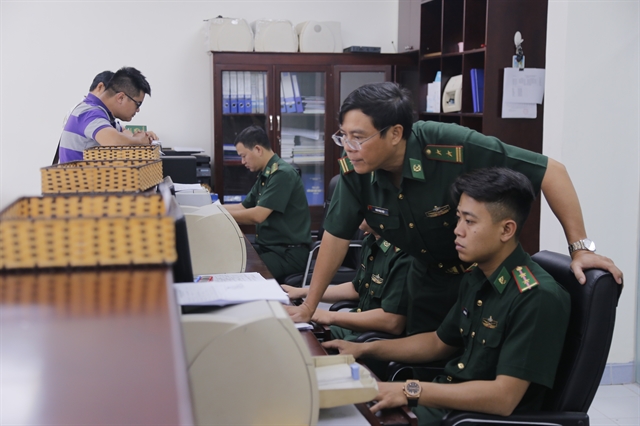 Electronic procedures help streamline the ones for boats to get into and out of ports in HCM City.
Trần Ngọc Diệp, head of the Port Border Defence Force's procedures division, speaking at a conference held to discuss the new procedures in the city yesterday, said storing information about boats and their crew online was convenient, and checking was quick and precise.
Online procedures helped reduce manual activities, he added.
Thus, the time required for completing border procedures for a boat getting into or leaving ports could be reduced from two to four hours to less than one hour, and issuing papers for crew aboard to go ashore, just a few minutes, he said.
Lê Hồng Sơn of Âu Lạc Corporation, which is in the business of transporting fuels by sea and domestic waterways, marine services and shipping, said companies benefit if procedures were digitised.
"With just a smart phone, I can complete border procedures."
But Trương Hoàng Thanh, director of SEA LINE Shipping Agency Co.Ltd, said the new system had yet to link up with the immigration department, leading to many problems related to getting into and leaving the city through seaports and airports.
Diệp said his agency understood the problem and had communicated it to the Ministry of Public Security and Ministry of Defence.
Ngô Minh Châu, vice chairman of the city People's Committee, said the city would petition the two ministries to resolve the issue to ease the problems faced by enterprises.
Administrative reform at ports to make it easy for vessels to enter and exit ports is a common trend around the world, he said.
He said port operators and shipping agencies should have a clear understanding about the new decision to ensure they follow procedures smoothly. — VNS