Blood donors needed to save more lives in Vietnam

Although emergency blood donations in remote, border and island areas have been launched in recent years, they are yet to meet the needs of urgent cases.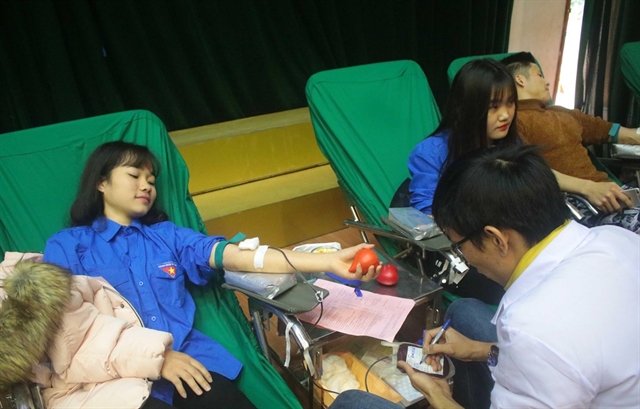 Young people give blood in Cao Bằng Province. 
As a donor on the southern island of Phú Quốc for four years, Võ Phong Hầu, a secondary school teacher, has donated blood 10 times, including four urgent cases.
Hầu remembered one of the emergency cases was a woman 60 years old who was hospitalised suffering from dizziness, breathlessness and a history of cirrhosis of the liver.
The patient was given four units of blood but she still needed more, Hầu told Vietnam News Agency.
Hầu immediately went to the hospital where the old woman was being treated to help her after receiving a phone call from doctors.
He said after giving blood he was given a sweet cup of tea and told to take a rest by a 30-something year old man.
The man told Hầu he was the old woman's son and wanted to thank him for his kindness.
It was the first time he had met anyone related to someone he had donated blood to and received their utmost gratitude.
"I was very happy when the old woman was out of danger and that I'd done something meaningful. If I do a good deed, good fortunes will come to my family in return," he said.
Hầu's blood donation club has more than 30 members who are willing to donate blood whenever the hospital needs it.
He said giving blood did not affect people's health. Many people had donated blood up to 60 times and were still in good health.
Blood drive
Hoàng Xuân Thủy, vice chairman of the People's Committee of Cát Bà Island in Hải Phòng City, is another willing blood donor.
One night the local hospital phoned the standby blood club's nine donors, and Thủy was the first to arrive.
After only a few hours, the source of blood from the mainland arrived on the island, promptly saving a patient who had been involved in a traffic accident.
Thủy has been actively calling for more people to join the club.
He said it was a practical model for island districts which were far from the mainland like Cát Hải District.
Every year, the National Institute of Hematology and Blood Transfusion also visits remote, border and island areas to organise health check-ups and screen for blood-borne infectious diseases in order to ensure safety for blood transfusions in emergency cases.
Storing blood before its transports from the mainland to the islands was not easy while blood banks were still not able to meet the demand for emergency treatment, according to the institute's doctors.
So building a blood donation force was the best option to meet the needs for emergency blood transfusions, they said. — VNS