Blaze reignites city relocation debate

The serious fire at Rang Dong's factory and the resulting environmental and health hazards in the areas has once again brought the removal of hundreds of polluting factories from the capital to the agenda.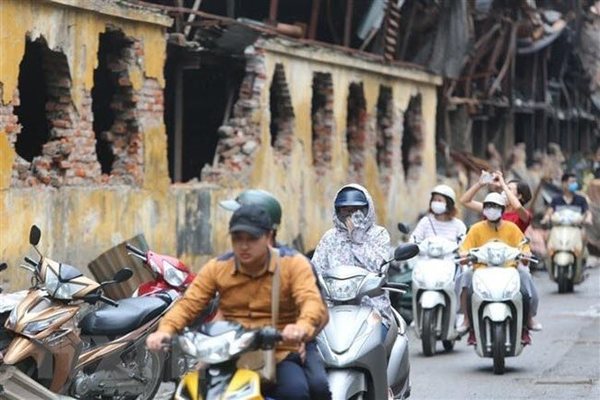 Rang Dong factory after the fire.
Days after Rang Dong Light Source and Vacuum Flask JSC's factory in Thanh Xuan district burned to the ground at the initially estimated loss of VND150 billion ($6.5 million), residents in the area are still worried about toxic materials and chemicals, such as phosphorus, zinc powder, and mercury, being released into the environment to pose health hazards.
The fears are exacerbated by news of nearly 60 people being hospitalised with symptoms of allergic reactions and dizziness.
Last week, at the regular government press conference, Deputy Minister of Natural Resources and Environment Vo Tuan Nhan announced that 15.1-27.2 kilogrammes of mercury have been released into the air, based on research by local authorities.
"Fortunately, the amalgam chemical storage cabinet of the factory, where a huge volume of mercury was stored, was not reached by the fire. Only the mercury in the flashbulbs burnt in the flames was released into the environment," said Nhan.
The test results of soil, water, and air samples by relevant agencies confirmed that the mercury content of most samples exceeded Vietnamese standards.
"The fire at Rang Dong was a chemical explosion, impacting human health to a medium level, but seriously damaging to assets and dispersing toxic chemicals into the air, which were then deposited into local water sources and flowed into the To Lich River," said the deputy minister, who confirmed that people living in a 500-metre radius could be affected adversely by the pollution.
Pham Van Son, director of the Vietnam Environmental Incident Response Center, said that in addition to checking soil, water, and the surrounding air, people's health should be closely monitored as signs of poisoning may take months to appear.
In order to evaluate the damage and the responsibilities of Rang Dong, Son said that it is necessary to compare and analyse data from before and after the fire.
The fire at Rang Dong has also raised an alarm about the factories operating in the centre of Hanoi and densely-populated areas, bringing up long-standing concerns about environmental safety and health hazards for residents living in the capital.
"Environmental safety is one of the most important factors of national security," Son emphasised.
Evacuating residents around the Rang Dong factory is only a temporary solution, with the long-term plan to relocate industrial facilities from the city.
Relocation challenges
The factory has been on the government's list of facilities to move out of the city for years, but showed no intention of doing so until the fire, and even now plans are uncertain.
According to a government proposal, Rang Dong was supposed to be relocated to Que Vo Industrial Zone (IZ) in the northern province of Bac Ninh, about an hour drive from Hanoi, to free up land for more fruitful endeavours.
In line with the regulations, Rang Dong can convert the land use purpose of the site in Thanh Xuan district through a joint venture or by establishing a new legal entity. However, so far, the company has not made plans to relocate and the spot in Que Vo IZ remains empty.
Rang Dong is one of hundreds of polluting facilities refusing to move out from the city despite the government's decision, made four years ago. Decision No.130/QD-TTg was issued in 2015 outlining the schedule for the relocation of factories, hospitals, tertiary and vocational education institutions, and other facilities from the urban areas of Hanoi, with plans for the freed land plots. However, the implementation of this decision proceeded at a snail's pace.
The following year, Hanoi's People's Committee confirmed the relocation of 117 facilities causing environmental pollution from 12 inner districts. Nevertheless, by last year only four facilities had been relocated, leaving more than a hundred operating in the capital.
In a similar case, in 2017, Thanh Xuan ­People's Committee sent ­Document No.1399/UBND- TN&MT to Hanoi Department of Natural Resources and Environment about the production facilities which are causing pollution and need to be moved out of Hanoi.
This included Thang Long Tobacco Company under the management of Vietnam National Tobacco Corporation, which was guilty of causing significant pollution. Although documents regarding the relocation of this company have been issued, it remains in place, polluting the environment every day.
Very few plants have moved from the city so far. Responding to VIR's queries about the delays, Troy Griffith, deputy managing director of Savills Vietnam, said that most of these businesses do not want to move out of big cities or leave the golden land plots they occupy, because they are well suited for business and transport.
"These facilities usually take up locations that could easily become hundred-million-dollar real estate ­projects in the future," he explained.
Additionally, many of these businesses lack the requisite finances to upgrade to clean production technology or invest in wastewater and waste treatment facilities – not to mention developing a new facility.
On the other hand, Tran Ngoc Chinh, chairman of the Vietnam Urban Planning and Development Association, said that the long delays in performance have quickly broken the planning vision due to the increasing number of IZs. According to the development plan for Hanoi towards 2030 with vision until 2050, the capital will have 33 IZs and hi-tech zones, but the city has 38 IZs already. The rising number of IZs is also increasing the risk of environmental pollution.
The capital is surrounded by IZs. Specifically, the west of Hanoi still has Thuong Dinh; and the south has Vinh Tuy, Thanh Tri, and Phap Van IZs, while Nam Thang Long IZ is located in the northwest and Yen Vien IZ's Gia Lam railroad factory and the other facilities are in the northeast.
All of these IZs are imposing a variety of environmental and health risks to the surrounding living areas that far exceed pollution indexes, particularly air and water pollution.
Stricter solutions needed
City dwellers are getting so used to the environmental pollution that they see it as part and parcel of living in a city. Located at the heart of Hai Ba Trung district's most heavily populated area, Dong Xuan Knitting Sole Member LLC regularly emits black and white smoke, threatening the health of tens of thousands of people living in the area.
Furthermore, coal and smut from its garment manufacturing activities have induced symptoms of sinus irritation and cancer in locals. At many meetings with local authorities, the district's citizens have repeatedly complained to about Dong Xuan's manufacturing activities, but its operations have so far gone on undisturbed.
Last week, Hanoi Department of Natural Resources and Environment issued a document about the short-term plan of removing 26 polluting facilities including Dong Xuan to IZs farther from the capital.
The facilities include Road and Bridge Engineering and Mechanical JSC, 3-2 Auto Mechanic JSC, Hai Ha Confectionary JSC, and Habeco, among others.
Hanoi People's Committee set aside 450 hectares of land in IZs as new locations for these facilities. The local authorities will apply sanctions and incentives to force them to move to IZs.
However, forcing the facilities to move out of the city will be difficult. Discussing the issue with VIR, Dao Ngoc Nghiem, deputy chairman of the Hanoi Urban Planning and Development Association, said that the biggest issue is finding a way to deal with the old facilities left behind by the investors.
"Despite the plan of developing these plots into public areas and green spaces, policies to transfer the lands to Hanoi People's Committee have yet to be issued," said Nghiem. "While this is necessary, it is more important to first deal with factories that do not wish to move out of Hanoi."
Rang Dong may see a repeat of Bibica's insurance Odyssey
With the difficulties around arriving at a mutually-acceptable damage assessment and insurer PVI's past handling of the fire insurance claim of Bibica, Rang Dong may be in for a long wait to receive insurance.
After the fire, local lightbulb manufacturer Rang Dong estimated its damage at VND150 billion ($6.52 million), submitting its claim accordingly to PetroVietnam Insurance JSC (PVI), the insurer. However, the amount of compensation and the kind of assets covered by the insurance have yet to be revealed.
Assessing fire damage is a complex task for insurers because potential risks go further than the physical goods destroyed directly by the flames. According to a leader of an insurance firm, who wishes to be unnamed, compensation does not reflect the magnitude of the damage companies suffer from fires.
"There is a sizable backlog of insurance claims related to fire damage at many insurers because the required compensation is pretty high," said the leader. "Moreover, there is always a risk of profiteering on the part of the applicant when assessing fire damage, so finding out the main reason behind the fire and the true extent of the damage is quite tough in some cases."
Another issue raising questions about a swift handling of Rang Dong's case is the identity of the insurer, PVI, who came out on the losing end of a lawsuit over a significant fire damage-based insurance claim lodged by confectionery producer Bibica.
In 2011, Bibica's manufacturing lines caught fire and its damage at the time was estimated at VND139 billion ($6 million). However, PVI denied compensation because the claim was bigger than the VND108 billion ($4.7 million) damage assessed by independent surveyor Crawford Vietnam. Bibica took the case to court, to reach a decision five years later in October 2016. The court decided in favour of Bibica, ordering PVI to pay VND115 billion ($5 million) in compensation.
With the difficulties of assessing fire damage and based on PVI's handling of Bibica's case, Rang Dong may be in for a long wait for its insurance dues.
Crisis of Rang Dong may not give Dien Quang new lease on life
Maybe not even the inferno at local bulb manufacturer Rang Dong (code: RAL) will help its competitor Dien Quang (code: DQC) overcome its two-year crisis to get back in the game.
While RAL fell from VND88,000 ($3.8) to VND77,500 ($3.37) during the weekend, DQC rose nearly 7 per cent.
"The fire not only caused Rang Dong VND150 billion ($6.52 million) in damages, but also blew off many investors' expectations," said Le Hang, investment consultant partner at a security company in Hanoi. "Rang Dong slipped, it is understandable that Dien Quang is in the limelight."
However, Dien Quang's weak performance over the past two years makes a potential revival a far prospect. Since late 2016, securities companies have been gloomy about the bulb company's prospects. Accordingly, despite the growth in revenue, which remains above hundreds of millions of US dollars per annum, its profit has been falling since 2014.
In 2018, Dien Quang's pre-tax profit was more than VND110 billion ($4.78 million), down nearly 65 per cent against the peak in 2014. The gross margin also dropped from 35 to 20 per cent due to its inability to liquidate stockpiles at a low price.
As a result, Dien Quang lost the crown to Rang Dong in the local stock market. Before 2014, the company's capitalisation was about twice as much as Rang Dong's thanks to their higher scale of the market capitalisation. However, the tables have turned since then. Specifically, Dien Quang's capitalisation was only half of Rang Dong's in 2016. The RAL stock closed the latest trading session four times higher than DQC.
Dien Quang's exports have also been finding it difficult to compete with Chinese companies, which offer LED products at a more reasonable price. To add salt to injury, the General Department of Tax in April issued the decision to collect nearly VND38 billion ($1.65 million) in tax from the company, equalling 63 per cent of its expected pre-tax profit in 2019.
In the face of these mounting difficulties, Rang Dong having its legs swept from under it may not be enough to put Dien Quang back on track.
On the other hand, Rang Dong's performance is unpredictable, according to information published at its 2019 shareholders' meeting. In 2015, its key products contributed 69 per cent of ts total revenue, which by 2018 fell to 16.6 per cent. "Rang Dong targeted achieving a profit growth of 25.6 per cent in 2018, but only reached 21.1 per cent – a sign of tough operations in years ahead," said Nguyen Doan Thang, chairman of Rang Dong.
The recent fire has put Rang Dong into a corner. The company estimated that the damage is equal to VND150 billion ($6.52 million), but analysts speculate it could be even higher than that. As of the end of the second quarter of 2019, its total debts accounted for nearly 70 per cent of its total capital. Relating to its first-half performance, Rang Dong's revenue was four times as much as Dien Quang, but their gross margins were similar.
This shows that Rang Dong has been using huge loans to improve its operations and has been running lower profit margins to increase its market share. Specifically, its interest expenses and sales costs were ten and six times as much as Dien Quang's.
While this strategy has helped Rang Dong get ahead of Dien Quang in recent years, it is a double-edged sword that can have severe repercussions if the company runs into trouble.
The RAL stock's recent fall made investors concerned about the company's prospects. "RAL's market price shrank by 12 per cent in only two sessions, everybody is worried," said Hang from a security company in Hanoi. VIR
Anh Huong