Billionaire shrimp farmer creds new farming tech for success
When starting a business, having the bravery to take risks isn't quite enough, according to a successful shrimp farmer in the south-central province of Khanh Hoa who earns VND15-16 billion (US$650,000- 700,000) a year.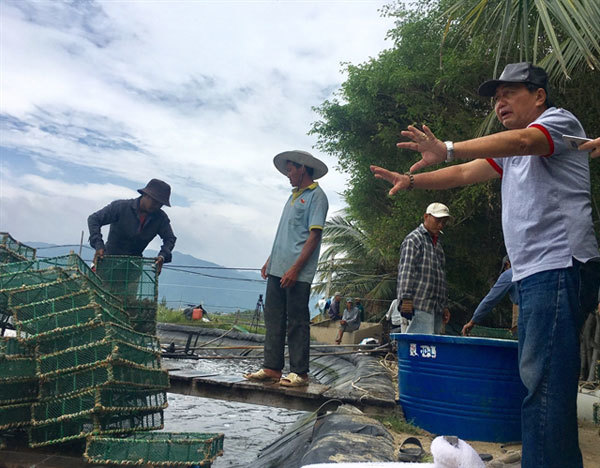 Shrimp farmer Le Quang Toan (right) instructs his workers at shrimp pond. — VNA/VNS Photo Thanh Van
Having experienced failures, 63-year-old Le Quang Toan, of Van Tho Commune, Van Ninh District, learned that knowledge and technology are vitally important for farming today.
Toan started farming shrimp in 1994 but faced losses until he made a profit in late 1997 after he learnt about using a tarpaulin pond.
His farming became more prosperous since 2013 when Toan applied biofloc technology, which is considered a blue revolution in aquaculture.
According to sciencedirect.com, the technology is "the use of aggregates of bacteria, algae, or protozoa, held together in a matrix along with particulate organic matter for the purpose of improving water quality, waste treatment and disease prevention in intensive aquaculture systems".
Toan was born and raised in a farming household in Phu Yen Province. His family moved to Cam Ranh District, Khanh Hoa and when he was 19, he joined the army. After his service ended, he returned to Khanh Hoa and tried various jobs to earn a living.
After moving to Van Ninh District in 1994, Toan borrowed money to start growing tiger shrimp on a pond with an area of 5,000 sq.m.
In early 1997, he changed from tiger shrimp to white-leg shrimp.
"Due to a lack of experience, I got losses and was stuck. Many times, I wanted to stop shrimp farming and looked at other things to do," Toan said.
"I had my eyes opened when the local farmers' association helped me to visit shrimp farming models in other countries including Thailand, Singapore, China's Hong Kong and Malaysia," Toan said.
"Thanks to such visits, I knew about a shrimp farming model using a tarpaulin pond which helped me earn a profit of VND2 billion after applying it for two months," he added.
With biofloc technology which Toan has used since 2013, he said he did not need antibiotics any more.
Combining biofloc technology with the tarpaulin pond, Toan could earn a profit of about VND8 billion per season, he said.
Shrimp usually sell for VND100,000-125,000 per kilo after being raised for about 2.5 months to reach the size where 50-60 shrimp weigh a kilo, Toan said.
He said his farm produced about 32 tonnes every 2.5 months and more than 100 tonnes yearly, so he could earn VND15-16 billion in bumper years.
"Modern technology and qualified breeding are very important for shrimp farming today," Toan said, adding that it was also important to ensure clean water in shrimp ponds and other water treatment techniques to create favourable conditions for shrimp to grow healthily.
At Toan's farm, he dug wells to take water and then, pumped the well water into a tank to partly remove waste and bacteria. Oxygen is intensively added to the shrimp ponds nearly all the time while water in the pond is regularly refreshed.
There are 40 regular workers and 250 seasonal ones in Toan's farm.
Doan Minh Thuan, a migrant worker from the central province of Phu Yen, who has worked at Toan's farm since 2013, said he was very happy to work for a monthly salary of VND6 million ($260).
He said that Toan also offered them a commission of 3 per cent of revenue during bumper shrimp seasons.
"As a regular worker at Toan's farm, I am paid well with an extra income of dozens of millions of Vietnamese dong yearly," Thuan said, adding that even during COVID-19 pandemic, his income was still stable.
Tran Quang Khanh, chairman of Van Tho Commune Farmers' Association' said that many local households learnt and applied Toan's shrimp farm model.
Toan offered them advice and instructed them on farming techniques. He also gave feed and medicines for the shrimp in advance and they would pay Toan after they sold their shrimp, Khanh said.
In 2012, Toan was recognised as a national outstanding farmer.  VNS

The southernmost provinces of Ca Mau and Bac Lieu have recently emerged as Vietnam's largest shrimp exporters, helping Vietnamese shrimp secure a foothold on the world seafood market.

Vietnamese shrimp is among the most-favoured agricultural products in overseas markets. However, with increasing exports also come more complications as domestic producers must comply with high standards set forth