Benefits outweigh drawbacks in university ranking participation
Many Vietnamese universities lately have entered international and regional ranking lists, a positive signal that domestic universities are gradually meeting strict global demands in higher education and contributing to the community.
Modest level of research: weakness of Vietnam's universities
Vietnam has seven universities in URAP's list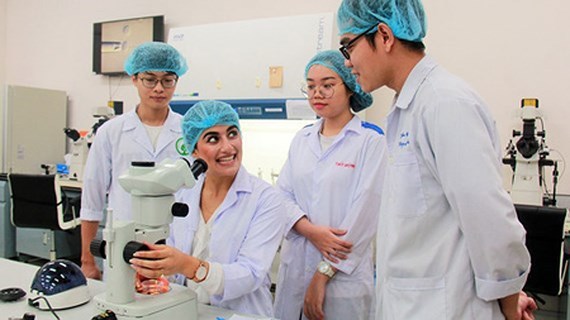 The participation in these ranking lists also show more advantages to the universities themselves since they are better aware of their strengths and weaknesses.
Statistics from Web of Science (WoS) display that from 2014 – 2018, international scientific announcement from Vietnam witnessed a significant growth. Particularly, in 2014, there had been only 3,482 articles. Yet this number increased to 6,187 in 2018, helping Vietnam to be ranked in the middle of the Southeast Asian region, leaded by Malaysia with more than 114,000 articles.
Though standing at a quite low position, the quantity of Vietnamese scientific announcements has risen dramatically in the last 5 years, by an impressive 18 percent per year.
It is the first time that Vietnam has a university in the top 1,000 leading universities globally.
Also, according to the QS World University Rankings 2019 (QS World), the Vietnam National University – Ho Chi Minh City (VNU-HCM) and the Vietnam National University – Hanoi (VNU-HN) are in the list of top 701 – 750 and the list of top 801 – 1000 in the world.
VNU-HCM is also included in the 4 percent of leading universities in the world out of 23,000.
QS World 2019 evaluates and ranks universities in accordance with the 6 indicators of academic peer view (40 percent), employer reputation (10 percent), faculty/student ratio (20 percent), citations per faculty (20 percent), international staff ratio (5 percent), and international student ratio (5 percent).
Another remarkable news is that Ton Duc Thang University, the first in Vietnam, is chosen by Times Higher Education – the UK (THE) in the list of universities to have the most significant effects on sustainable social-economic development of the world. It is in the top 101 – 200 out of 462 universities. The university is honored to be the only in Vietnam to reach 4/5 stars according to QS-stars of the UK.
As stated by Dr. Le Van Ut, university ranking is a necessity for it can reflect the true capability of any educational institute. The ranking has become a critical factor to help parents and learners choose the most suitable one for their own needs.
Notably, domestic universities should focus on renowned ranking lists to honor academic purposes. Those which do not take part in this ranking activity show a lack of confidence in their operation.
Vietnamese should take into consideration the criterion of conducting research in the university environment, observing such leading indicators as ISI of the US or Scopus of Holland.
According to Dr. Nguyen Quoc Chinh, Head of the Center for Educational Testing and Quality Assessment of VNU-HCMC, university classification and ranking is a global fashion and attracts much interest from the public as well as educational experts.
This demonstrates a demand from the society for an improvement of educational quality and transparency in such a competitive and changing world.
The ranking has clearly shown various benefits of providing sufficient and founding information for the quality upgrading process in educational institutes. SGGP