Bac Giang migrant workers to be relocated as part of Covid-19 fight
The northern province of Bac Giang, Vietnam's ongoing Covid-19 epicentre, plans for workers from other localities to return to their hometowns to help mitigate Covid-19 infections.
Since the Covid-19 outbreak in Bac Giang, all workers from other localities have been requested to stay in the province. However, at present, Bac Giang is facing great pressure in the Covid-19 fight with a rising number of patients. Meanwhile, companies and factories in local industrial parks have used only some workers after being reopened.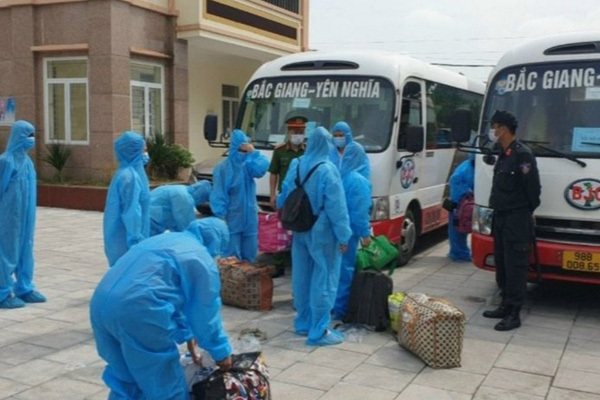 The workers in Bac Giang to return their homes in Lang Son Province.
Bac Giang wants half of the workforce from other areas to temporarily return to their hometowns in order to ease Bac Giang's difficulties in Covid-19 prevention and control activities. This is also aimed to help reduce Covid-19 infection risks in lock-downed and quarantine areas in the province.

The majority of the workers affected are based in Viet Yen and Yen Dung districts.

Currently, a huge number of workers who have not yet returned to their workplace are still at quarantine sites or isolated areas in Bac Giang, including 60,000 from localities outside the province.

Workers who are pregnant and those with children under six months old, the elderly with underlying diseases, Covid-19 patients discharged from hospital and people who finished their quarantine regulations will be prioritised to return to their homes.

The relocation is slated to be carried out on June 12-15.
Dtinews

The intense heat in northern Vietnam in the past few days has made the job of Vietnamese health workers in hospitals and quarantine sites more difficult.

A financial relief package worth nearly VND27,600 billion (US$1.2 billion) to support workers and employers affected by Covid-19 was recently proposed by the Ministry of Labor, Invalids and Social Affairs.