Aviation authorities claim repatriation flight prices not inflated
The Civil Aviation Authority (CAA) of Vietnam has recently defended the cost of repatriation flights and related services, saying they had not been inflated due to the COVID-19 pandemic.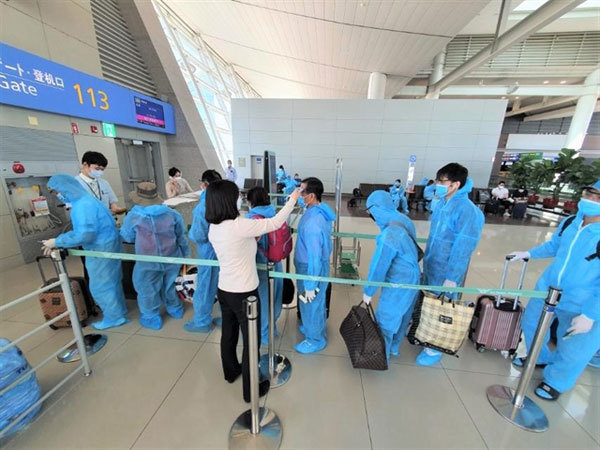 Vietnamese citizens in full-body protective suits get their temperatures checked before boarding a repatriation flight operated by Vietnam Airlines departing from Seoul's Incheon Airport in May. — Photo courtesy of Vietnam Airlines
Vo Huy Cuong, deputy head of the CAA, said that two 'combo flights' – VN417 from Seoul to Da Nang on November 20, and VN417 from Seoul to Quang Ninh on November 23, both operated by Vietnam Airlines – had shown there was real demand for all-in-one packages.
The packages include a flight ticket (which includes the cost to be paid for service providers both in and outside Vietnam), costs for three or four-star hotel stays of 14 days for mandatory quarantine with three meals a day, specialised transport services from the airport to the quarantine hotel, two COVID-19 tests, and treatment of medical waste and disinfection of personal effects during the stay, among others.
Cuong said the use of three and four-star hotels had been decided by local governments because they had a capacity of 100 or more rooms to accommodate centralised quarantine for large group of arrivals, preventing them scattering across different facilities and making it hard to manage and monitor quarantine compliance.
"Prices for combo packages are reasonable, and ticket prices are no higher than pre-COVID-19," Cuong noted.
The claim that the actual price Vietnamese citizens returning from South Korea had to pay for these combo packages has been pushed up 1.5-2 times to VND40-50 million (US$1,730-2,163), compared to the initial asking price of VND29.5-30 million, "does not come from official sources, and only personal Facebook accounts," according to Cuong.
Cuong stressed that after discussions with the arrivals, the rates were similar to the agreed published rates.
However, slight differences could occur due to currency conversion during transactions done overseas, between the Japanese yen, South Korea's won or Vietnamese dong, for example.
Also, in Quang Ninh, depending on the time, even the designed three-star quarantine hotels have run out of space, which makes it necessary to quarantine the passengers into higher-rated hotels, Cuong said, adding that Vietnam Airlines is working with Quang Ninh authorities to set up more diverse quarantine facilities.
In order to shorten travel times, two future flights carrying Vietnamese returnees from South Korea to be quarantined in Thanh Hoa Province (central Vietnam) will be redirected to land at Noi Bai International Airport in Hanoi, instead of Van Don International Airport in Quang Ninh Province, which is further to the north.
Authorities in Thanh Hoa Province have agreed on the plan with their counterparts in Hanoi, and will coordinate to ensure safety for passengers on these two flights when they are transported from the airport to FLC Sam Son hotel complex in Thanh Hoa City. 
Strict prevention protocols
Also according to representatives of the Airports Corporation of Vietnam (ACV), disease control protocols at airports were being strictly implemented.
Aviation security staff will co-ordinate with local Centres for Disease Control (CDCs) to ensure all passengers wear masks, wash their hands at the entrance to airports, and fill in self-declared health forms (paper or electronic) at flight desks.
If the passenger's body temperature is found to be over 36 degrees Celsius, in addition to displaying typical COVID-19 symptoms such as shortness of breath or dry coughing, they will be treated as a potential coronavirus carrier and immediately transferred to a centralised quarantine facility.
All flights arriving overseas will be disinfected right after landing at their designated parking lots.
High tough surfaces like armrests, door knob on washrooms and the outer shell of overhead luggage compartments will receive extra attention.
Airlines that operate repatriation flights usually ask passengers and crew to wear personal protective equipment, especially masks, during the entire durations of their flights.  VNS

A total of 54 repatriation flights have been planned within the last two months of 2020 to bring home around 17,000 Vietnamese stranded overseas as a result of the COVID-19 pandemic.