An overseas Vietnamese: Covid-19 infected, in lockdown and the desire to fly back home
Jack Tran is an overseas Vietnamese who is now living and working in London - United Kingdom told Hanoitimes about his experience as a Covid-19 patient.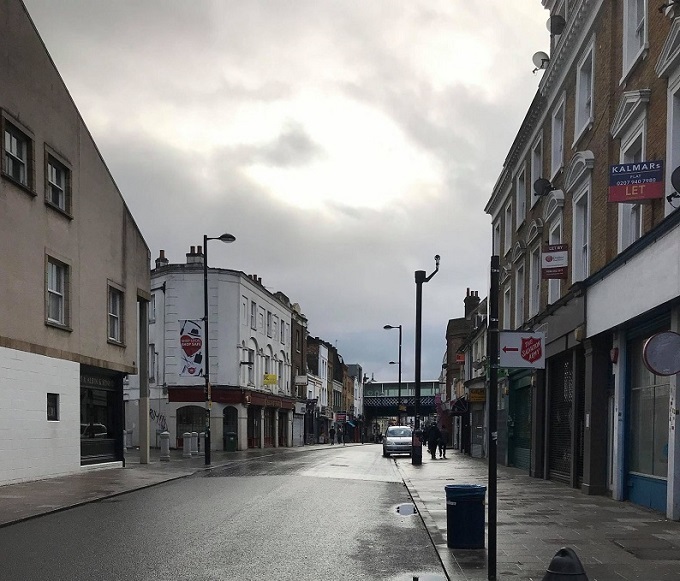 London streets are almost empty during these days.
United Kingdom and three times of blockades because of Covid-19
I am Tran Sy (Jack Tran), a Vietnamese who is living in the UK since 2002. Today is the 15th day since my wife and I were confirmed positive for coronavirus, but luckily that all of our three children are not infected. Many Vietnamese families here have tested positive, and like us, are under self-quarantined at home.
This is the third time the British Government has issued a national lockdown. The first run from March 25, 2020 to mid-July 2020. During that time, hospitals were overcrowded, the schools were closed. The number of daily infections kept running up-ward. The record number of infections is beaten every day and hundreds died daily. We all lived in fear within such a terrible plague. Everyone was afraid and somewhat confused.
Soon after the lockdown was lifted, the streets became more bustling, and people gradually returned to normal lives. But at the beginning of the new school year in September 2020, Covid-19 re-emerged and the whole country entered the second blockade, on November 5.
This time, both UK residents and overseas Vietnamese were somewhat indifferent, we began to be familiar with the pandemic and didn't care about it much. Schools were not shut down. The students isolate themselves at home if they are found being infected. Once an infection was confirmed among the students, the whole grade would remain isolated at home while students of other grades keep going to school as usual.
By the beginning of December, the Government gradually loosened the lockdown in order to "save" the Christmas, and people were happy to go to work. This is the time when the pandemic spreads at the most terrible speed. Around 30,000 new infections were reported per day and 300 to 400 among them died. In some days, the number of deaths even reached over 1,000 people.
The gloomy and bewildered atmosphere prevailed all over the country as the situation worsened. On December 19, the British government ordered a third national lockdown. Millions of people in London and most of the southeastern part of England were placed under an emergency lockdown, when Prime Minister Boris Johnson warned that the pandemic was "out of the control".
Residents were required to stay at home, all gatherings with non-family members were forbidden. Shopping malls, personal services, and non-essential business shops were all closed.
The crisis called "coronavirus variant"
Finally, the worst thing has come: 60,000 new infections are confirmed every day and a variant of Covid-19 has recently found! At the moment, UK has to re-active its field hospitals to deal with the record number cases of people infected with SARS-CoV-2. There are members of the Vietnamese community in the UK also infected with the coronavirus, many people tested positive to the new coronavirus mutant. And we were, unfortunately, among them.
I just want to say that the physical pain is really terrible when being infected by a kind of virus that just "as harmful as seasonal flu", like the British had previously thought. Even with me – a very healthy person without any underlying illnesses; non-smoking; do exercise and play sports regularly- the health is till severely affected by coronavirus infection. Somehow, I felt extremely impotent.
On the 2nd day after being confirmed positive for Covid-19 (December 28, 2020), I started to be bedridden, with high fever, loss of taste, dry cough, chest tightness, shortness of breath, felt cold and hot at a time. I was forced to treat the illness by myself by having some sauna with Vietnamese traditional herbs daily.
In terms of medical services, any British citizen or immigrant to the UK will receive free medical care and treatment. But as the pandemic worsens, the number of cases and deaths peaked to the point where most hospitals are overloaded, the Covid-19 patient has no choice but to stay home and deal with the disease themselves.
It takes several days to make an appointment with the doctor and the hospital only accepts severe Covid-19 cases requiring mechanical ventilators. After becoming infected with the coronavirus, someone from the local government called to ask if we needed any food or medicine; and he gave us advice to call the emergency number if necessary.
Today is the 15th day of mine fighting against Covid-19, I'm able to go shopping in the nearby supermarket and take the specious chance to look around. Staying at home for too long is really stressful.
People who hate facemasks
London streets are quite crowded at the moment. In public places, antiseptic solutions are also provided. People are also advised to wear face masks but not required. And, obviously, UK residents do not like facemasks, thus, even the Covid-19 infected people are allowed to go out or go shopping without wearing a facemask!
It seems that the Vietnamese community in the UK has a better sense of wearing face masks and preventing a pandemic than the locals. The British, who always revere personal freedom, seem to bother wearing masks. People who wore the masks were even stigmatized when the pandemic broke out in this country.
See you soon, my homeland!
In mid-January 2021, when the Lunar New Year is nearing the door, this is also the time when everyone is nostalgic more than ever. I really miss the time when my whole family gets together to enjoy delicious traditional Vietnamese dishes on the evening of the last day of the lunar year, while waiting for sacred New Year's Eve.
I usually return to my homeland, Vietnam, once a year in the past few years, but in 2020 my family's journey had to be postponed. At the moment, as the Covid-19 pandemic is still ravaging the UK, my desire to fly home couldn't come true.
In addition, Vietnam is restricting entry, banning flights from countries with new virus variants, especially from the UK. But even if flights do resume, I will not choose to return immediately. I understand that unnecessary travel at this time might bring worries and burdens to the country and myself as well. Therefore, the only thing I can do now is wait for the right time, keeping the homesick deep in my heart.
My homeland, my Vietnam- see you very soon!
Hanoitimes

Minister of Health Nguyen Thanh Long has warned that Vietnam remains at high risk of COVID-19 infections from abroad as the number of cases in many countries keeps rising.