African swine fever spreading in Hanoi's districts

African swine fever has been successfully controlled in Ngoc Thuy Ward, Long Bien District and Phu Thi Commune, Gia Lam District, according to Ha Noi Department of Agriculture and Rural Development.
African swine fever presents opportunity for Vietnam's large-scale livestock enterprises
How was African Swine Fever discovered in Vietnam?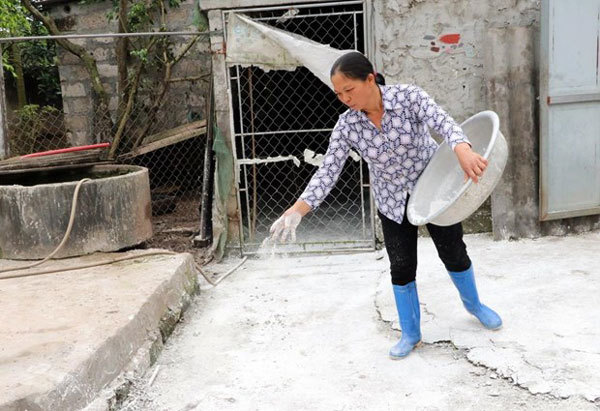 A farmer in Truc Thang Commune, Truc Ninh District, Nam Dinh Province sprinkles lime powder around the pig sty to prevent African swine fever. — VNA/VNS Photo Van Dat
So far, the disease has been identified in 895 livestock farming households in 18 districts of Hanoi, including Dong Anh, Soc Son, Gia Lam, Quoc Oai, Hoang Mai, Thach That, Phuc Tho, Thanh Tri, Phu Xuyen, Thuong Tin, Chuong My, Hoai Duc, Dan Phuong, Ha Dong, Me Linh, Ung Hoa, Bac Tu Liem and Ba Vi.
More than 12,940 pigs have been culled in an attempt to stop the outbreak, Hà Nội Mới (New Hà Nội) newspaper reported.
In the last two days of April 16 and 17, the African swine fever epidemic occurred in 229 households with 3,236 pigs culled.
The agriculture department has required the Animal Husbandry sub-department to closely monitor the disease and continue to take random samples from slaughterhouses for testing.
Local farmers should be given more information on the disease so that they can be aware of the danger, infection and solutions to prevent this disease.
In Nam Dinh Province, the disease struck nine of ten districts and cities, with nearly 28,000 pigs culled, vietnamplus.vn reported.
Only Y Yen District has not detected this disease.
The provincial government has asked localities to take drastic measures to control the outbreak.
People's committees at city and districts set up a mobile quarantine team and 87 quarantine spots on the roads to control the transport of pigs and pork products into and out of the region.
Son La Province also saw eight districts suffering from this disease, with nearly 3,150 pigs culled.
VNS