700 Japanese register for Vietnamese-language proficiency test

More than 700 Japanese candidates on June 23 registered for the third Vietnamese-language proficiency test held by the Japan College of Foreign Languages in Tokyo.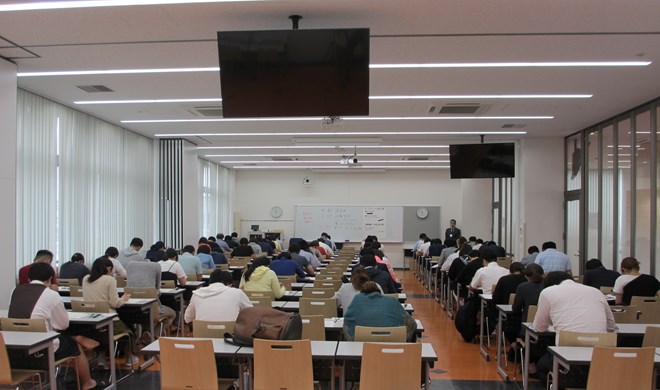 The number of contestants doubled that of thefirst in 2017.

President of the 2019 exam council YanagisawaYoshio said this year's contest received warm response from candidates across36 Japanese localities all over Japan. They are students, lawyers and policeofficers, aged from 12 to 83.
 
The test is divided into six levels with thesecond as the highest.

The rate of participants passing the examincreased from 16.7 percent in the first in 2017 to 29.8 percent in the secondin 2018.

Rector of the Japan College of Foreign LanguagesIse Yoji said the relations between Vietnam and Japan have developed stronglyin all fields in recent years, adding an increasing number of Japanese peoplewant to learn Vietnamese.

Pham Quang Hung, first secretary in charge ofeducation affairs at the Vietnamese Embassy in Japan, said the number ofJapanese students learning Vietnamese at universities is increasing, mainlythose having special sentiment with Vietnam or want to work in the fieldsrelated to the Southeast Asian country in the future.

Furthermore, as the number of Vietnamese peopleliving and working in Japan has been surging, the demand for learning thelanguage among Japanese officials and authorities has increased, too.

The Japan College of Foreign Languages under theBunsai Gakuen Non-Profit Education Foundation is the first and only organizationso far to host the Vietnamese language proficiency contest in Japan.

Masayoshi Fujino, director in charge of externalaffairs at the college, said the exam aims to encourage Japanese people tospeak Vietnamese and increase cultural exchanges and mutual understandingbetween the two countries.

The fourth edition of this kind will be held atthe end of June 2020.-VNA



Vietnam was the fastest growing tourism market of Japan with rise of 125.9 percent in 2018, according to the Japanese Ministry of Land, Infrastructure, Transport and Tourism (MLIT)'s 2019 white paper on tourism.

Japanese researcher Tomoharu Katano conducted surveys on over 1,200 ancient churches in Vietnam hoping to help people gain a better understanding of the construction's values for proper preservation.

After five years of decline, Vietnam's processing and manufacturing sector has begun to receive a substantial volume of investment capital from Japanese enterprises.