5.6 percent of Vietnamese children face risk of trafficking

About 5.6 per cent of Vietnamese children are at risk of trafficking according to results of a nationwide survey.
Girl arrested on suspicion of trafficking baby to China
Unobjective assessment on Vietnam's combat of human trafficking
Quang Ninh arrested two women for human trafficking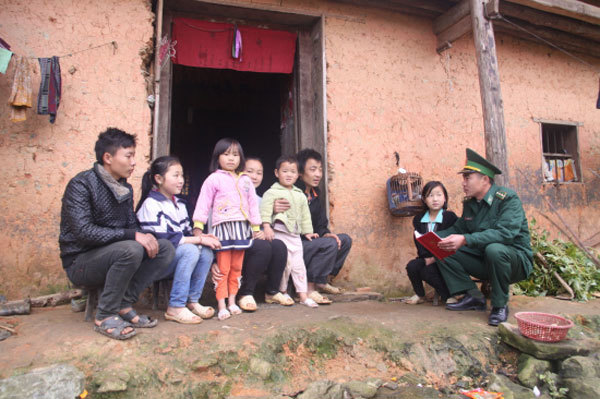 A member of staff from Pho Bang Border Post in northern province of Ha Giang talks to local residents on prevention of trafficking of women and children. Photo bienphong.com.vn
The information was revealed at a workshop held on Tuesday in Hanoi to announce results of research entitled "Child and Youth migration, exploitation and trafficking in Vietnam" organised by the United Nations Children's Fund (UNICEF), Institute of Labour Science and Social Affairs (ILSSA) and CORAM International.
The project was designed to strengthen knowledge and collect evidence of child trafficking and labour exploitation. It explored the forms and motivation as well as identifying factors that increase the vulnerability of children.
Trafficking survivors' experiences of integration and access to support services were also examined.
According to Luu Quang Tuan, deputy of ILSSA, since 2017, the team has conducted surveys on 3,885 Vietnamese children and young people aged 12-24 in 36 communes nationwide to understand employment opportunities and social issues relating to children.
Researchers also interviewed 86 children and young people aged 12-24 who had been formally recognised as victims of trafficking.
Findings revealed 5.6 per cent of those questioned may have had experiences indicative of or consistent with child trafficking. However, only 2.8 per cent of them were calculated as victims.
Girls, boys, young women and men were all exposed to the same risk. Trafficking victims were lured by false promises about high-income jobs and education opportunities, according to the research.
The majority of rescued victims found it difficult to access support services.
Kara Apland, a representative from Coram International - a research institution and consultancy specialising in children's rights – said government agencies and NGO partners should collaborate to promote access to comprehensive education about migration, employment rights, and how to access protection assistance.
Priority should be given to promote children's access to education and skills training, and safe employment opportunities and livelihood programmes, she said.
Legal protection for migrant workers should also be expanded, Apland said.
It was essential to strengthen the capacity of professionals from law enforcement, immigration, health, education, social services and community leadership to recognise indicators of child trafficking.
Lesley Miller, UNICEF Deputy Representative in Vietnam said the research had a significant meaning with their policies and programmes in Vietnam.
It was a must to improve database records on human trafficking, and promote preventive measures through raising public awareness and provide better social services for vulnerable and impoverished households, she said.
Miller also highlighted the need to offer more job opportunities for adolescents and enhance the access to social protection services of vulnerable children.
VNS