3.1m doses of COVID-19 vaccine donated by US, Japan arrive in Vietnam
A total of 3.1 million doses of COVID-19 vaccine donated by the US and Japan reached Vietnam in the past few days.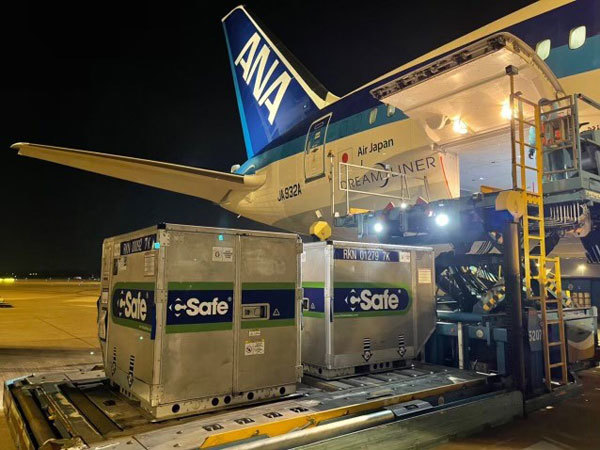 The AstraZeneca batch from Japan arrived in thermal shipping containers at Tan Son Nhat International Airport in HCM City early Saturday morning. — Photo courtesy of the Japanese Embassy in Vietnam
The US Mission to Vietnam announced two shipments of 2,633,670 million doses of Pfizer/BioNTech vaccine to Vietnam made available via COVAX, with 1,317,420 doses arriving at Noi Bai International Airport in Hanoi late Sunday and another 1,316,250 doses touching down at Tan Son Nhat International Airport in HCM City early Monday morning.
The delivery brought the country's donation through COVAX to Vietnam to over 12.1 million doses (5 million doses of Moderna and the remainder Pfizer/BioNTech vaccines), making the US the biggest vaccine donor to Vietnam so far.
"Continuing to build on our longstanding cooperation and investment in Vietnam's health infrastructure, we have provided support to essentially every pillar of the country's pandemic response," the US Embassy said in a statement on Monday.
"From virtual trainings that have reached thousands of hospital workers in the Mekong provinces with skills to protect themselves from infection, to genetic sequencing technology that allows Vietnam to track variants of the virus that are circulating, to information systems that guide rapid vaccine delivery to provinces to reach those at highest risk; from supplying COVID-19 test and vaccine storage equipment to bolstering Vietnam's COVID-19 care systems, especially in HCM City and neighbouring hard-hit provinces, by providing life-saving equipment such as ventilators, oxygen concentrators, and liquid-oxygen tanks for patience in need," it added.
"We stand shoulder-to-shoulder with Vietnam in the fight against COVID-19," the statement reads.   
Earlier on Saturday, the Japanese Embassy in Vietnam said 500,000 doses of AstraZeneca vaccines have arrived at Tan Son Nhat International Airport in HCM City, following the announcement to such effect from the Japanese foreign minister during a press briefing on October 15, bringing the total donation from Japan to 4.08 million doses.
In a related move, AstraZeneca Vietnam has also donated 386,400 doses of vaccines to Vietnam on Sunday, according to a health ministry notice.
To date, Vietnam has administered nearly 73 million doses of vaccines, with about 21 million people receiving two doses.
Source: Vietnam News

A batch of 500,000 doses of the AstraZeneca COVID-19 vaccine donated by the Japanese Government arrived at Tan Son Nhat International Airport in Ho Chi Minh City on October 23.