150-year-old pottery village still uses traditional methods

Dozens of households in Thu Dau Mot City in the southern province of Bình Dương continue to make clay jars and pots by traditional methods, just as their ancestors once did.
Discovering one of the oldest pottery villages in Southeast Asia
Dai Hung pottery kiln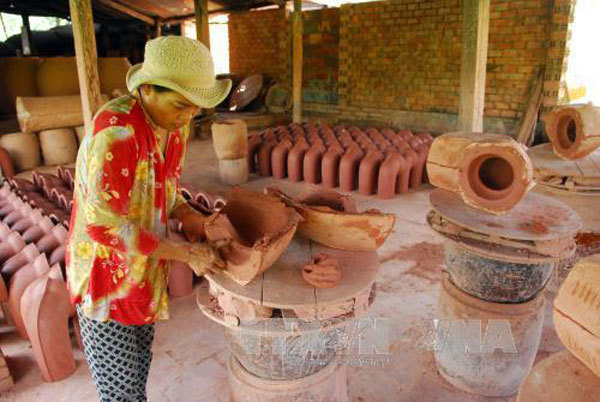 Dozens of households in Tuong Binh Hiep Ward in the southern province of Binh Duong make clay jars and pots with traditional methods. — VNA/VNS Photo
Today, traditional craft villages in the country are competing with machines that can outperform people, and artisans have been forced to look for other ways to earn a living.
However, there are exceptions. The pottery village in Binh Duong, located about 40km from the centre of HCM City, has a history of more than 150 years. It makes various kinds of clay jars and pots for agriculture, fisheries and daily use.
Nguyen Van Binh, 60, who has devoted half his life to this work, said that artisans have followed the traditional method of making pottery by hand with locally available materials.
The jars must be fired with dry wood at 1,200 degrees Celsius for five hours straight to finish, Binh said.
Large jars made from 40 kilos of clay can hold 200 litres of water, and are usually used to store rainwater or make fish sauce.
Most of these products are enameled in brown and decorated with embossed dragons and phoenixes.
Large jars are priced at VND380,000 ($US16) while small ones cost VND150,000 ($US6.4). During the rainy season, they are used to store rainwater.
VNS