Young professor admits mistakes in published research work
Facing scandal for the first time in his life, Prof Phan Thanh Son Nam, Dean of the Faculty of Chemical Engineering of the HCM City University of Technology, has said the incident has been a "bloody lesson" for him.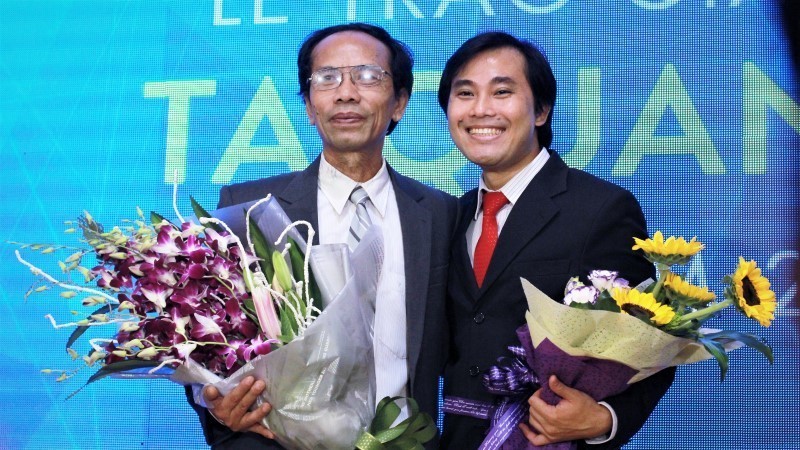 Prof Phan Thanh Son Nam receives Ta Quang Buu Awards
Nam said errors in scientific articles are often amended and experimentation is a part of all research fields and the work is done by many individuals. When articles are published, there is a column for corrections.
Nam confirmed that in the supplemental instruction (SI) of the article he published, there are some NMR (Nuclear magnetic resonance) spectra similar to the NMRs in the SI of another article published by his research team.
The mistake was found only in the SI, or the supplementary information, of the article.
According to Nam, the article was checked by three researchers, including himself. But the mistake was still made.
"All mistakes must be corrected. There is also an area in the journal for corrections. This was really a bloody experience for me," Nam told VietNamNet.
He said he doesn't feel pressure because mistakes can occur in scientific research, but stressed that if he makes mistakes, he must correct them.
"Doing scientific research is just like being on thin layer of ice. You don't know where you can reach and if you may have an accident. So, you need to be very cautious," he said.
Prior to that, an entry was posted on open Wikipedia related to Nam's research work, denouncing him for re-using the same magnetic resonance spectra for many different results in other unrelated articles.
Nam has written about the incident on his personal page with 5,000 followers, where he calls this a "bloody experience".
He wrote that it was wrong to have the same images or materials in different articles of the same research team, including the SI. He always reminds his students that it is wrong. And if his research team makes mistakes, it must correct them.
According to Nam, the first author writes the SI and then the SI is checked by a corresponding author in the team before it is checked once again by Nam. He is always very careful about this and uses two corresponding authors, but the mistake was still made.
Nam admitted that he pays a great deal of attention to articles, but is not as careful with SIs.
As head of the research team and the person who checked the article the last time, Nam apologized to the community for the mistake. He was sorry that he didn't organize the research team well enough to prevent the mistake. 
Le Huyen

Prof. Duong Quang Trung, Research Chair of the Royal Academy of Engineering and Professor at Queen's University Belfast in the UK, had a talk about science and other topics with VietNamNet.

Nguyen Thi Thanh Ha, a lecturer at the Hanoi University of Science and Technology, was named the youngest female associate professor of 2020 in Vietnam.