Young female scientist wins International Brain Research award
Dr Ha Thi Thanh Huong, 31, has been named one of the winners of the Early Career Award 2020 from the International Brain Research Organization based in France for her research on the application of artificial intelligence
and new biomarker tools to assist in the diagnosis of Alzheimer's disease in Vietnam.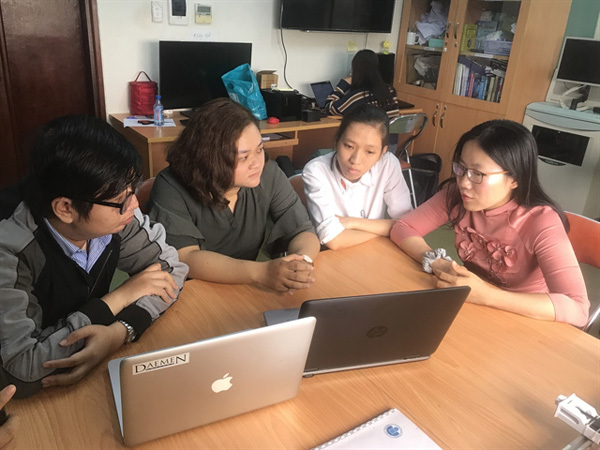 Dr Ha Thi Thanh Huong (right) guides her students' research activities at the School of Biomedical Engineering under the International University. VNS Photo Gia Loc
Huong, head of the Department of Tissue Engineering and Regenerative Medicine at the School of Biomedical Engineering under the International University, returned from the US to Vietnam in 2018 to conduct this research. She graduated from Stanford University's Neuroscience Ph.D. programme with financial support from the Vietnam Education Foundation Fellowship, a Stanford Graduate Fellowship, and a Faculty for the Future Award.
"I wanted to study abroad to learn deeply about neuroscience and have more knowledge and skills to address the urgent and dire mental health problems in Vietnam," Huong said.
She said she wanted to identify the problems and find solutions. "Why is it that so many people in our motherland are not diagnosed or treated for brain-related disorders? Why are the treatments not very effective for depression or Alzheimer's? Why are the diagnostic processes of Alzheimer's so long and expensive? I would often lose sleep in the evenings and appetite during the day thinking about these questions. The problem urged me to return to Vietnam," she said.
Her research approach is the application of artificial intelligence and development of new biomarker tools to assist in the effective diagnosis of Alzheimer's disease.
"My family has a member who suffers from depression, so I wanted to have deep understanding about the brain and how it works," Huong said.
"Alzheimer's is a disease relating to the brain. It will become a burden for the country's health sector in the next five or 10 years. Vietnam is the world's seventh most rapidly aging country. So the number of older people with Alzheimer's will be increasing rapidly in these years," she added.
Alzheimer's, a disease of old age and memory impairment, causes disruption of daily life skills and changes in personality. It also causes several secondary diseases related to lung and dehydration, which can lead to mortality.
"To perform the correct diagnostic measures and therapies requires very well-trained neurologists, and we have so few experts in the whole country, which does not meet the large market demand," she said, adding that this is a major problem in Việt Nam and the rest of the world.
With Alzheimer's, a person's brain changes at many different levels. The brain's neurons first have molecular changes and gradually die. An MRI of the brain can show how many cells have died.
"When such disease-related markers are discovered, we will be able to develop diagnostic tools -- for example, when a change in the brain is molecularly spread out into the blood and a blood test is done to detect change," Huong said.
"When we see these changes on MRI film with our naked eye, it is already late. Hence, we apply artificial intelligence to see the changes at an earlier stage. For neurodegenerative diseases, the earlier it is detected, the better the treatments work," she added.
In other countries, artificial intelligence is also used to analyze brain MRIs and find biological signs in blood. But Huong's research has technical differences. The most important feature is developing low-cost software or detection kits to serve Vietnam and developing countries.
In her research, she also works with doctors at April 30th hospital and the University of Medicine and Pharmacy Hospital to seek professional advice and understand practical needs. Doctors also provide data for research activities.
In Vietnam, very few patients are aware of Alzheimer's, and this creates difficulty for her to conduct research.
"In other countries such as the US, Alzheimer's research started a few decades ago, which allowed them to build a large database of the patients. We do not have any of that here. Hence, our group will need to work with medical colleagues to carry out tests for exact diagnosis of this disease and find patients for the research. The cost for these US standard tests is expensive. The amount of money from the Early Career Award 2020 from the International Brain Research Organization will partially help us carry out these tests," Huong said. 
Obstacles
However, her team faces a lack of infrastructure and machines for research. Running artificial intelligence models requires computers with a powerful configuration, fast processing speed, and big data capability.
The co-head of the research team, Dr. Ngo Thanh Hoan, used his own money to buy the computer, but it was not sufficient for their students to do research, so they had to rent a cloud platform.
"For diagnosis based on blood samples, we need to analyse the genetic molecular sequence, but we do not have a machine for this technique, so we will have to send samples abroad," Huong said.  VNS
Gia Loc

Three Vietnamese female scientists have been named among the 100 most outstanding researchers of the year, according to Singapore's Asian Scientist Magazine.