Will Vietnam launch satellites like Elon Musk's Startlink?
A telecom carrier said launching a satellite would assess the efficiency of a satellite-internet business model. If it is done, Vietnam would use satellite constellation technology, a growing trend.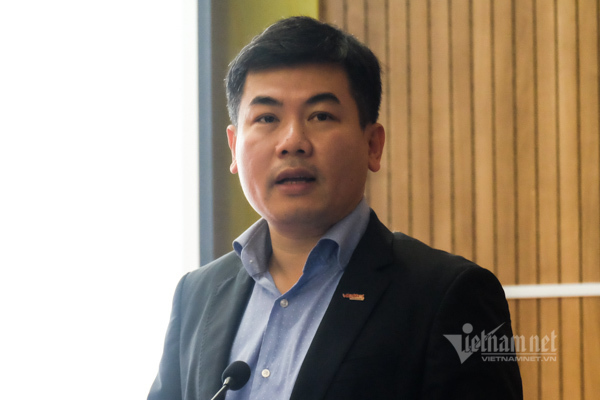 Viettel's Le Ba Tan
Google's report on ASEAN digital economy showed that Vietnam is the second-fastest growing internet economy in the region. Cities dominate Vietnam's 'online map', but it is rural areas which are believed to be the key market with a predicted growth rate twice as high as large cities.
At present, the internet is accessible in 77 percent of rural areas. However, this means that 23 percent of rural areas still cannot access the service.
According to Le Ba Tan from Viettel, in order to solve this problem, Vietnam should think of trying satellite internet service. This is the method that many countries in the world are using to expand the internet's coverage to remote areas such as mountainous areas and islands.
After being launched into space, the satellite will become an extraterrestrial communication station. The satellite's mission is to receive signals in the form of radio waves from one station on Earth, amplify them and transmit back to Earth to another station.
Satellites are classified into several groups depending on the height and scope of operation, including LEO (low Earth orbit), MEO (medium Earth orbit), HEO (high Earth orbit) and GEO (Geostationary orbit). The most common satellite services include television, internet, navigation, weather, Earth observation and the use for military purposes.
Tan believes that of the prevailing technologies, Vietnam should consider developing LEO constellations to provide internet services.
Unlike other types of satellites, LEOs operate closer to the Earth, with the distance of 800-1,600 kilometers. Their life span is 5-7 years, the same as MEO and just half of GEO.
LEOs implement two major tasks – observing the Earth from a distance and connecting the internet. As the travel distance is shorter, LEOs just need 1.5-2 hours to fly around the Earth.
LEO technology has been suggested to Vietnam because it has low construction and launch costs, while it can provide high capacity at high speed and low latency.
Regarding the disadvantages of LEOs, experts mention the short lifespan, satellite waste, and high expenses for the gateway system and users' devices.
Reports show that there are 1,800 satellites operating around the Earth, mostly LEOs.
Experts have also pointed out the challenges for Vietnam when developing LEOs, including the high service cost (7-8 times higher than common internet service) and inability of many domestic firms to research and develop services. More importantly, there is no research on the impact of LEOs on national defence. 
Trong Dat

A research project by the Department of National Remote Sensing has for the first time used images provided by VNREDSat-1, Vietnam's very first remote sensing satellite, in calculating carbon dioxide emissions.

Development of NanoDragon, a micro satellite developed by a team of Vietnamese engineers, has been fully completed and the device is set to be sent to Japan to undergo quality control before being launched into orbit in September.