Wild elephants re-appear in Gia Lai province
A herd of three to five elephants has re-appeared in several communes in the Central Highlands province of Gia Lai's Chu Prong district in recent days.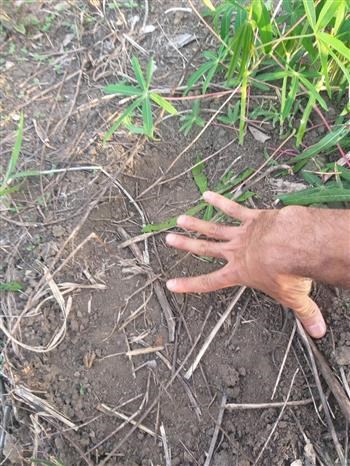 Elephant footprints are seen in border communes of Chu Prong district in Central Highlands province of Gia Lai. (Photo: VNA)
According to Ro Ma Nghia, chairman of the People's Committee of Ia Ga commune, these elephants were spotted in the area of My Stream and Chu Gay mountain on June 25.
They damaged a farming hut and some banana trees planted by locals in the bordering area of Ia Ga and Ia Lau communes. The elephants moved to another commune on June 26 morning
Local authorities have reported the appearance of the elephants to the Chu Prong district People's Committee, Nghia said.
Nguyen Tuan Anh, Vice Chairman of the People's Committee of Ia Mo commune, said that elephants have appeared in border communes for many days. They usually travel at night.
On the evening of June 25, the staff on duty at Cat stream and people of Ia Mo commune saw wild elephants were moving to Cat stream and the border area with Cambodia. Among the herd of elephants, there is a very big elephant with a long tusk. Elephant footprints of up to 30-40cm wide are imprinted on the soil. The damage is not yet calculated.
To ensure the safety of the people, the People's Committee of Chu Prong district requested relevant agencies and the People's Committees of Ia Ga, Ia Pia, Ia Puch, Ia Mo, Ia Pior, and Ia Lau communes to strengthen their patrol work and get information on wild elephants' activities to prevent them from affecting daily life, production, and health of locals.
Local people have been advised to limit their traveling and not stay overnight in the fields to avoid being attacked by wild elephants.
They were asked to immediately report the elephants activities to the administration for appropriate handling measures. The hunting of the elephants was also prohibited./.
Source: VNA

Wildlife trafficking in Vietnam remains complicated both before and during COVID-19, a report released on June 18 by the People and Nature Reconciliation (PanNature) non-profit organisation showed.