West Lake pollution shows no signs of improving
West Lake in Hanoi has been polluted for many years and the problem doesn't seem to be getting any better.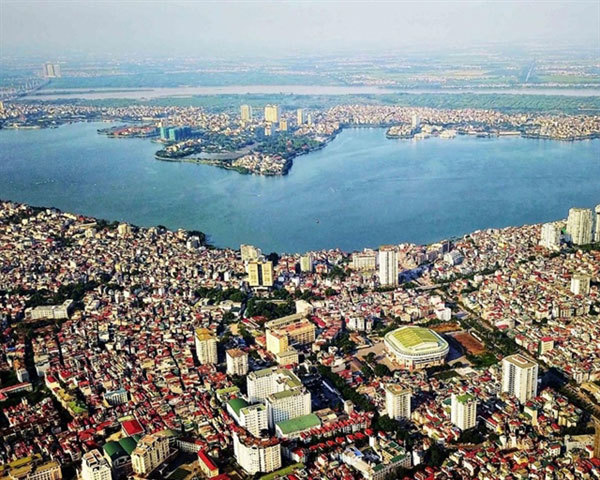 A section of West Lake seen from above. VNA/VNS Photo Thanh Dat
The amount of garbage and dead fish on the lake's surface has increased, affecting the landscape, water quality and daily life of people living near the lake.
Environmental experts have said the value ​​of biodiversity in West Lake has been declining significantly.
According to a survey on the composition of floating plant species in West Lake, the number of species in the lake decreased from 115 species in 1996 to only about 60-70 now.
Green algae saw the biggest decline in numbers, decreasing from more than 70 species to around 10 species. Precious birds or fish are almost absent.
Scientists have blamed the increasingly polluted water environment in West Lake, especially in the dry season.
Pollution seriously affects the living environment of species in rivers and lakes as well as landscapes. As a consequence, the number of dead fish is increasing.
In 2016 and 2018, dozens of tonnes of dead fish floated on West Lake's surface. Many reasons for the mass fish deaths were given such as the hot sun and algae bloom at that time.
However, according to many people living near the lake, they still see dead fish occasionally but in smaller quantities.
Quynh Anh, who lives on Nguyen Dinh Thi Street, Tay Ho District, said in the morning, a lot of people walk and cycle around the lake. But no one walks around sections like Quang An and Nhat Chieu due to the water's stench in this area.
VietnamPlus reported that water in some areas of West Lake has turned dark green recently, and become dirtier and cloudier than usual. A lot of garbage and dead fish float on the lake's surface, causing fishy odours in the air.
Notably, the lake area around Nhat Chieu Street is home to many abandoned service boats whose operation was stopped in 2017. The rusted, abandoned boats are another source of pollution.
Thanh Truong, living in Viet Hung Ward, Long Bien District, regularly visits West Lake. He said: "If you go along the Quang An section, you will see people dump household waste including incense bowls in the lake."
"People who drink at cafes and eat at restaurants along the lake also throw newspapers, plastic bags, and food packages into the lake. I hope the authorities will have quick solutions to the problem," he added.
According to Professor Pham Ngoc Dang, vice president of the Vietnam Association for the Protection of Nature and Environment, in the 1960s, West Lake had good water quality. People often went to the lake to collect water for cooking.
Now, the lake is too polluted to use to water plants, he said.
Over the past 25 years, local authorities have taken a number of measures to protect West Lake from pollution, for example, building culverts around the lake to prevent wastewater from flowing directly into the lake.
However, environmental experts have said that to improve the water quality in West Lake, the first thing to do is to clearly identify the cause which may come from human activities or due to natural reasons.
Experts said stiff penalties should be imposed on those throwing garbage into the lake. At the same time, solutions like collecting trash and dredging sediment to improve the water storage and cleaning capacity of West Lake have been proposed.
VNS

The Ministry of Natural Resources and Environment's (MONRE) tests show that the water of Hanoi's West Lake is polluted.

The water quality in Hanoi's West Lake has improved after being treated using Japanese nano-bioreactor technology.