Weather apps offer unreliable data

Hanoi's residents have been advised to be watchful of the applications they use to check the city's air quality.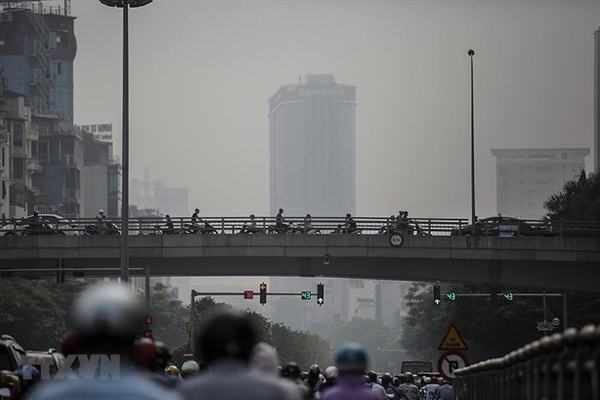 Ngã Tư Sở intersection engulfed in smogon the morning of September 15 in Hà Nội.
Hà Đăng Sơn, head of the Centre for Energy and Green Growth Research under the Việt Nam Union of Science and Technology Associations, said that some of the information available via apps was unreliable and unverified.
He was speaking at a workshop themed "Understanding Correctly About Air Pollution in Hà Nội" co-held by the city's Natural Resources and Environment Department and Live & Learn for Environment and Community.
Sơn said people were overwhelmed because there was too much information compared to three years ago.
Hà Nội had two types of air quality monitoring equipment. The first was a series of observation stations that met international standards and monitored air quality on a large scale. The second was a series of cheap sensors that only monitored on a small scale, he added.
The city's Environmental Protection Department used the stations to source reliable data, even though it was not available instantaneously. Meanwhile, unofficial monitoring sites such as Airvisual and Pam Air used the smaller devices which were inaccurate, Sơn said.
Economic consequence
Professor Hoàng Xuân Cơ, a senior lecturer at the University of Science, said the poor air quality in Hà Nội recently was a consequence of economic development.
This was common in countries where development was heating up, Cơ said.
Cơ said there was a link between the adverse conditions and Gross Domestic Product (GDP) growth, especially in developing countries like Việt Nam.
"We are a developing country, we have to accept an exchange (for our growth), but the exchange should be at an acceptable level," he added.
According to Cơ, the Government and the city had taken positive steps to curb air pollution in recent years.
For example, the Government had phased out leaded gasoline, improved emissions standards and promoted clean energy.
However, the current system to monitor air quality needed to be improved, he said. — VNS

The AirVisual app, whose data indicated that Hanoi has at times topped its list of 90 major global cities suffering from air pollution, has been restored for download on Google Play and Apple's App Store in Vietnam.

A separate annual world ranking elaborated by IQAir (owner of AirVisual) in partnership with Greenpeace in March showed that Hanoi was not in the world's top 200 most polluted cities last year.