Water shortage a looming crisis for Vietnam

According to experts at a forum on water resource management on Friday, Vietnam is facing a severe water crisis.
Hoi An tourism city lacking drinking water
Fresh water shortage threatens 4,000 families in Kien Giang
Sapa faces serious water shortage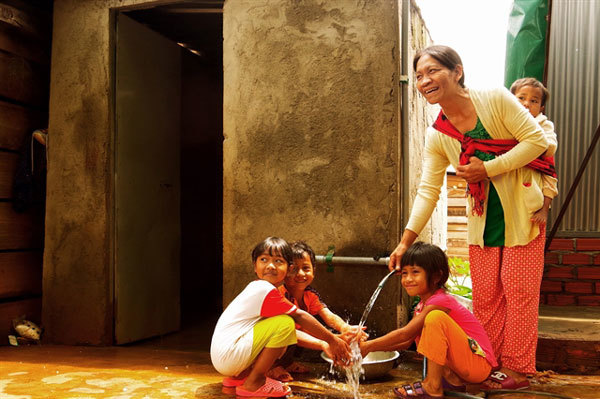 Children in the Central Highland province of Dak Nong wash their hands at a water supply station built by a national project on providing freshwater for people living in border areas. Experts have raised concerns on issues related to water resource mismanagement in the country. VNA/VNS Photo
In a report by the International Water Association, a country with inland surface water output of less than 4,000 cu.m per head per annum can be considered as lacking water.
Vietnam has an average surface water volume of about 830 billion cubic metres per year, but two thirds of that figure comes from other countries. With a population of over 90 million, each Vietnamese citizen receives only 3,370 cu.m of water per year.
Highlighting the importance of water resources and the role of civil societies in water resource management at a forum held on Friday, experts raised concerns on issues related to water resource reduction, water pollution, misuse and mismanagement.
Dao Trong Tu, vice chairman of Viet Nam Irrigation and Drainage Association and head of Viet Nam Rivers Network, said that the construction of hydropower plants along rivers was blocking the flow, causing water shortages for people living downstream.
On the 100-km-long Ma River, there were five hydropower plants, Tu said.
In Hanoi alone, at least six rivers are polluted, he said, adding that untreated wastewater from households, industrial zones or trade villages was flooding into the rivers and impacting people's health.
"Vietnamese people usually used groundwater for drinking, but now, the groundwater resources are polluted and exhausted because of improper management," he said, adding that efforts were needed to tackle the problem.
"Vietnam has a relatively good legal framework on water resources, but the enforcement is not as good as it should be," he said.
Nguyen Hong Khanh, head of the Irrigation Works Management Department under the agriculture ministry said that impacts of climate change and extreme weather were also affecting the country's water resources.
This year, the volume stored in Vietnam's reservoirs was comparable to previous years, but still would not stretch for the spring-summer crop season.
"At least three record heat waves hit the country this year, with the longest lasting from June 3 to July 1. The average temperature rose to 40 degrees Celsius, with low humidity and hot wind from Laos," he said.
"Freshwater is a limited resource, playing an important role in life and socio-economic development, but it is very susceptible to changes in weather," he said.
Tran Tuan, Director of Ha Noi-based Research and Training Centre for Community Development said that water shortages occurred when people did not protect and use water resources properly.
"It's necessary to optimise the exploitation and use of water," he said, adding that the Government's role in orientation is paramount.
The Government has made efforts to protect water resources but some industries hindered results, he said, emphasising that it was important to prevent activities that diminish water resources, by imposing heavier taxes, for example.
Khanh, from the Irrigation Works Management Department, said it was very important for policy makers to consult people, organisations and civil society so that they could collect diversified points of view, which could help produce effective policies.
"This goes for water resource policies too," he said.
The forum yesterday was co-organised by Đại biểu nhân dân online newspaper and non-governmental organisations Information Centre under the Viet Nam Union of Science and Technology Associations.
VNS