VN faces challenges in plastic waste collection, recycling
Vietnam faces challenges in sorting, recycling and treating plastic waste and current policies for the reuse and recycling of solid waste, including plastic waste, still have shortcomings, according to experts.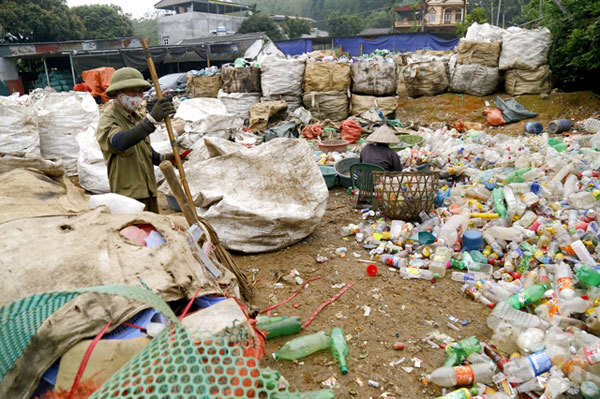 Sorting plastic waste at a co-operative in Tuyen Quang City, the northern province of Tuyen Quang. 
Professor Nguyen Huu Dung, president of Vietnam Institute of Urban and Industrial Environment, said the amount of plastic waste and plastic bags in Vietnam accounted for about 8-12 per cent of the total solid waste.
Dung made the statement at an online workshop held yesterday by Vietnam Urban Environment and Industry Zone Association and Môi trường và đô thị Việt Nam (Vietnam Urban and Environment) magazine.
However, only about 11-12 per cent of plastic waste and plastic bags were treated and recycled, he said.
Most plastic waste was burned, buried or discharged into the environment, he said.
Discharging plastic waste into the environment would cause pollution, especially ocean pollution, he said.
It was estimated that about 5 per cent of medical waste was plastic and there were 22 tonnes of plastic waste generated from the medical sector daily, he said.
Besides, collecting, recycling and burying plastic waste from the medical sector could cause environmental pollution and affect public health, he said.
Pham Van Duc, Deputy General Director of Hanoi Urban Environment Company (URENCO), said the company had faced difficulties in collecting plastic waste.
Plastic waste was often bulky, so transportation and storage were difficult, he said.
There was not a fund for waste classification in environmental-sanitation bidding packages or a supporting package for companies investing in the plastic waste recycling system, he said.
Public awareness of the need to sort waste at the source and use of recyclable items was still limited, he said.
Nguyen Le Tuan, president of Vietnam Institute of Seas and Islands, said current policies failed to issue a mechanism to encourage the private sector to collect and treat domestic solid waste as well as establish a market for the consumption of eco-friendly plastic bags.
The policies also failed to attract investment capital from the private sector, Tuan said.
Besides, the environmental protection tax on non-biodegradable plastic bags was still low, so it had made a strong impact on the limitation of production and use of plastic bags, he added. 
Recommendations
Dung said it needed a roadmap to fix the situation.
He suggested applying technology in classifying plastic waste at the source and recycle plastic waste and bags as well as finding materials to replace plastic bags and disposable plastic products.
Duc recommended the Government issue financial support and preferential policies to encourage the construction of plastic waste recycling plants.
Participants at the online meeting also proposed agencies develop mechanisms and policies to create a market for consuming eco-friendly plastic bags.
It was also necessary to increase the environmental protection tax rate on non-degradable plastic bags, participants said.  
VNS

Implementing subprojects of the Rethinking Plastics Project to collect marine litter in Phu Yen and manage ship waste at Cat Lai Port will promote the conservation of the Vietnamese marine environment.

Nguyen Thi Huong, Head of the Hanoi Sub-department of Natural Resources and Environment's Environment Assessment talks on how to make traditional plastic waste recycling craft villages become cleaner and greener.