Viettel is fastest mobile operator: report
The Vietnam Internet Performance Report Q2 released by Ookla, the global leader in testing application, showed that Viettel was the fastest mobile operator in Vietnam.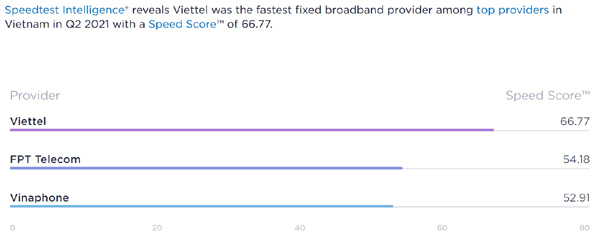 The report showed that Viettel had a Speed Score of 44.16 and fixed broadband speed score of 66.77. This was the second consecutive quarter the mobile network operator topped the list of service providers. The figures were 38.55 and 59.76, respectively, in Q1, 2021.
As such, in H1, Viettel stood firmly at the first position in terms of 4G data downloading speed (44.12 Mbps). Viettel's clients can watch 4K videos and play games online easily anytime and anywhere.
When measuring the stability of the performance of every fixed broadband service provider, Ookla found that Viettel had the highest stable score in Q2, with 80.9 percent of samples having the minimum download speed of 25 Mpbs and upload speed of 3 Mbps.
In Q1, Viettel also was No 1 in stability with 78.7 percent of samples with the minimum download speed of 25 Mbps and minimum upload speed of 3 Mbps.
Ookla assessed the data speed based on the results of measurements on clients' mobilephones to ensure objectivity and reliability. This is similar to recent assessments by other institutions specializing in mobile network data speed measurement.
In late 2020, Umlaut recognized Viettel as the best mobile network in Vietnam and gave 'Best in Test' certificate to the operator which had scores nearly the same as Singtel (Singapore), Telstra (Australia), T-Mobile, Vodafone and Telefonica (Germany).
In Vietnam, Umlaut collected and analyzed more than 370 million samples measured within six months, covering 99 percent of geographical areas with living population. Its analyses showed that Viettel's network is the best in Vietnam with 886 out of a 1,000 score.

Hakan Ekmen, CEO of Telecommunication Umlaut, commented that Viettel is operating very well and its quality is the same as mobile network operators in industrialized countries.
Viettel is the network operator with the largest 4G network in Vietnam with nearly 42,000 BTS and 33 million subscribers. It plans to set up 4,600 more 4G BTS to satisfy clients' demands and improve service quality.
While developing 5G and IoT, Viettel is considering 4G as key technology for the next three years.Viettel has completed the installation of 132 5G BTS in 13 cities and provinces.
A Viettel representative said the total number of 5G subscribers had reached 20,000 as of the end of June.
In June 2021, the 5G average download speed of Viettel was 501 Mbps in Hanoi and 361 Mbps in HCMC.
It has also installed on a trial basis two 5G mmSave stations with the download/upload speed of 4.5Gbps/250 Mbps. 
Van Anh

Three mobile network operators - Viettel, VNPT and MobiFone - have applied for the implementation of their own Mobile Money pilot projects.

Under the coordination of VTA, the three largest mobile network operators are working togetjer to implement a plan on managing subscribers' information, aiming to stop the existence of junk simcards and ready-activated simcards.