Vietnamese have only two choices for high-end smartphones

Apple and Samsung are now controlling the high-end smartphone market segments. Other brands have disappeared.
"What should I buy with tma budget of VND20 million?" It's easy to answer in Vietnam, because there are only two choices, either Apple or Samsung.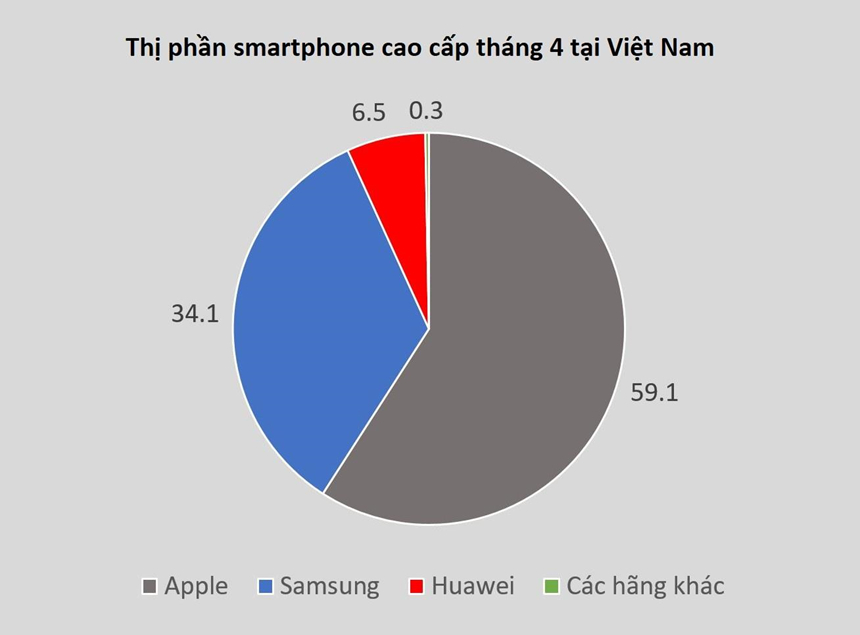 The Vietnamese smartphone market
Statistics from GfK showed that the two manufacturers have 'swallowed the high-end market'.
High-end smartphones are products with the prices of VND15 million or more.
In March 2019, the two giants made up 99.2 percent of the high-end smartphone market share, with 42.8 percent belonging to Apple and 56.4 percent to Samsung.
In April, Apple jumped to the No 1 position with 59.1 percent of market share. Samsung was in the second position with 34.1 percent, leaving Huawei far behind with 6.5 percent.
In March 2019, the two giants made up 99.2 percent of the high-end smartphone market share, with 42.8 percent belonging to Apple and 56.4 percent to Samsung.
As such, the total market share being held by all other brands, including Oppo, Vivo and Xiaomi is less than 1 percent. Meanwhile, Vivo and Nokia, the once famous brands, now don't have high-end smartphone models in the Vietnamese market.
At present, Huawei is the only name which still dares to compete with Apple and Samsung in the high-end market segment. However, analysts have predicted a gloomy prospect for Huawei as the Chinese brand has been put on the US black list. Huawei is experiencing difficult days as a series of big partners such as Google and Microsoft have announced termination of cooperation.
Soon after the stop of cooperation was announced by Google, the number of Huawei smartphones sold through large smartphone distribution chains dropped dramatically.
"Google's announcement has affected customers' decision. They tend to ignore Huawei's products when choosing high-end models," commented Dang Thanh Phong from The Gioi Di Dong.
Other distribution chains have reported the same. "Huawei will find it more difficult to exist in Vietnam in the time to come. The Chinese brand is at a disadvantage compared with Apple and Samsung," said Mai Trieu Nguyen, the owner of a retail chain in HCMC.
Three or four years ago, the high-end market proved to be more competitive with the presence of many big names, including HTC, Sony and LG. But the brands are going downhill in Vietnam.
LG continues launching high-end models into the international market, including G7 ThinQ, V50 and G8 ThinQ. However, the South Korean manufacturer withdrew its mobile device business division from Vietnam in late 2017.
In late May, Sony announced the decision to shrink some markets where its business was unsatisfactory, including Vietnam.
After launching Xperia XZ22 in April 2018, the manufacturer stopped all of its mobile device business in Vietnam.
HTC is still in Vietnam, but its business activities are maintained at a moderate level.
Ngoc Ha

Vietnam is among Apple's favorites for smartphone diversification from China, according to Nikkei Asian Review.  

Vietnam's real estate-tech-retail giant Vingroup started construction on its smart phone factory - the second of its kind - in Hanoi on June 10.