Vietnam uses high-tech solutions against Covid-19
Facing the complicated development of epidemic, many provinces have ordered local people to apply technology solutions such as filling out electronic medical declarations by scanning QR codes and installing the Covid-19 tracking app Bluezone.
In the northern province of Thai Nguyen, since May 3, local healthcare facilities have promoted the use of information technology in epidemic prevention and control. Local people are installing the Made-in-Vietnam Covid-19 tracking applications like VHD, NCOVI, and Bluezone and doing medical declarations by QR Code.
Medical centers have organized medical declaration by QR Code at epidemic check points. Local people can use their smartphones to make medical declarations after scanning the QR Code created by the medical centers at checkpoints. The QR Code is available for all the locally-made applications VHD, NCOVI, and Bluezone.
The authorities of Bac Ninh province, a hot spot, have requested districts, towns and cities in the province to prepare quarantine centers for 1,500 people, which must have CCTV systems to monitor people under quarantine to ensure that they fully follow epidemic prevention measures.
CCTV systems are also installed at pandemic checkpoints.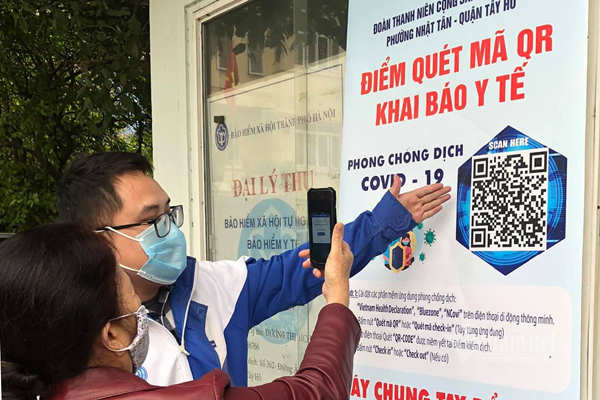 Electronic medical declarations through mobile applications VHD, NCOVI, Bluezone are being used in many provinces. (Photo: Trong Dat)
The local Department of Information and Communications coordinates with mobile service providers and updates information on epidemic prevention via mobile phones to local residents on a daily basis.
Communications about the prevention of Covid-19 via the public loudspeaker system is carried out by all culture and information divisions and radio stations in districts, towns, cities and wards.
The local Department of Information and Communications has also implemented solutions set by the Ministry of Information and Communications (MIC) in the "Guidance on using the Covid-19 prevention, fighting and tracing solutions in the community" under the instruction of MIC's Department of Information Technology.
In Hanoi, medical declarations using QR codes have been widely implemented since April 27.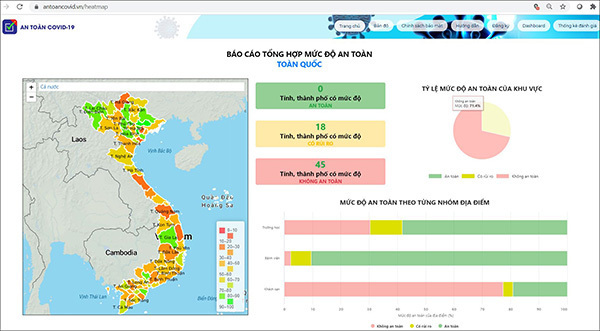 In particular, upon returning to Hanoi after the April 30 and May 1 holiday, all residents had to make medical declarations on tokhaiyte.vn, by QR Code, or direct declarations to the local authority under the guidance of the Ministry of Health. Hanoians have been also encouraged to use the Bluezone app.
As of May 3, in Hanoi, the app had been downloaded nearly 3 million, reaching the rate of 33.83% of the city's smartphone users.
Like Hanoi, Bac Ninh, and Thai Nguyen, many other provinces and cities in the country such as Thua Thien Hue, Da Nang, Thanh Hoa, Kon Tum, Lam Dong ... are also applying technological solutions in Covid-19 prevention.
In order to meet the urgent requirements of the prevention and control of Covid-19, on April 23 the Ministry of Information and Communications issued the "Guidance on using the Covid-19 prevention, fighting and tracing solutions in the community".
This is a combination of propaganda measures to raise community awareness about administrative measures of the government, in which technology solutions are promoted.
The technology solutions proposed by the Ministry of Information and Communications to help local governments detect and zone outbreaks include: Bluezone application, medical declaration app VHD for people who enter Vietnam, voluntary medical declaration management application NCOVI, arrival/departure registration system at public places (QR Code), and an anti-epidemic mapping system.
Ngoc Minh