Vietnam team wins third prize at ABU Robocon 2019

The LF-WAO team from Lac Hong University were awarded third prize following the final round of the ABU Robocon 2019 which took place in Ulaanbaatar, Mongolia, on August 25.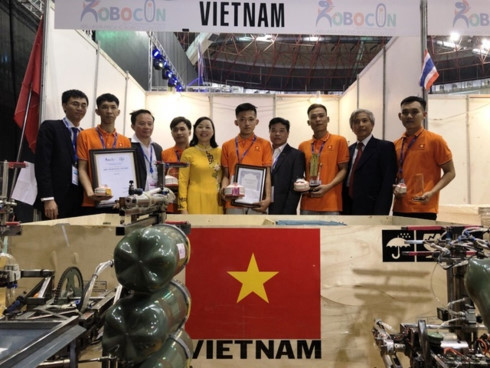 Vietnam team bags third prize at ABU Robocon 2019 (Photo: Petrotimes)
The Vietnamese team also received the ABU Robocon Award by ABU Robocon Council in addition to a prize from Mabuchi, the competition's sponsor.
The overall winner of the competition was a team from Hong Kong (China). Second place went to a team representing the host nation Mongolia, while a team from China were awarded the joint third-place prize alongside the Vietnamese team.
This year's ABU Robocon event saw the participation of 17 teams from universities, colleges, and academies from 16 countries and territories from across the region.
The 2019 version of the Robocon competition sought to promote the idea of "Sharing the knowledge".
This theme was initiated by host nation Mongolia, with inspiration coming from the Urtuu system which was first innovated by the Mongolians for the purpose of exchanging information over long distances.
The event also drew some inspiration from the Mongolian folk game Shagai, during which players flick animal ankle bones at a target.
In the competition's history, teams representing the nation have triumphed at the ABU Robocon seven times.
The championships were claimed by Ho Chi Minh City University of Science and Technology in 2002, 2004, and 2006, while Lac Hong University won the 2014, 2017, and 2018 event, and Hung Yen University of Technology and Education took home the title in 2015.