Vietnam takes drastic measures to clean up toxic content on social media: official
Popular Vietnamese TikTok user Tho Nguyen recently caused outrage online by posting videos about Kuman Thong dolls online, asking the dolls to bless her studies after "receiving many requests from children".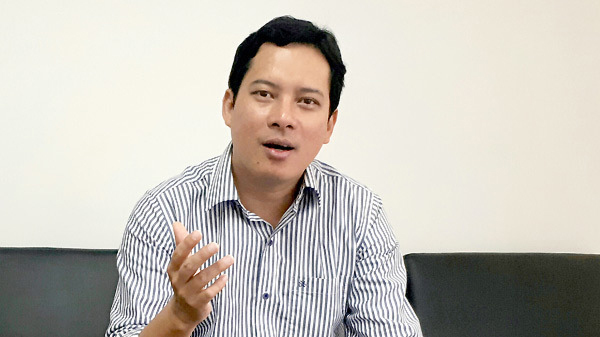 Deputy Director of the Authority of Broadcasting and Electronic Information Le Quang Tu Do. — Photo vietnamnet.vn
The toxic content shocked the parents of young viewers. She was fined VND7.5 million (US$326) for her "superstitious" posts. The incident has thrown online content moderation into the spotlight.
In a recent interview with Liberated Sai Gon newspaper, Deputy Director of the Authority of Broadcasting and Electronic Information Le Quang Tu Do talks about measures to curb harmful content online.  
How do you evaluate the impacts of social media platforms like Facebook and Youtube in Vietnam? 
Social media platforms are a great achievement of humankind, helping to connect people, spread knowledge and a huge resource for data and information. However, they have their own dark sides. They are used to spread fake news, defame other people and share harmful content. Therefore, we must look at both positive and negative sides to ensure we make the best use of their advantages and limit setbacks.
Social media platforms like Facebook and YouTube have had big changes in their business models, which indirectly encourages sensational, clickbait and harmful content. This kind of content has developed strongly and had negative impacts on users. This has been warned about many times. The Ministry of Information and Communication (MOIC) has worked with other authorities to take drastic measures to handle this issue. 
What has been done to limit harmful content on social media?
First, we have negotiated with the platforms that have a large number of users in Vietnam like Facebook, YouTube and app stores like Apple Store and Google Play. When we detect toxic and illegal content, the Authority of Broadcasting and Electronic Information under the MOIC will be responsible for working with these platforms to remove or block it and these platforms will have to comply with that.
Secondly, the ministry has consulted with the Government in issuing more legal documents to ensure better management and stricter sanctions for violations related to social media and telecommunication and internet services.
Thirdly, we also ensure sanctions are imposed on violators in Vietnam. The MOIC has worked with police forces to review, detect and punish those who took advantage of social media to spread fake news, defame people and anti-State activities. In 2020, the authorities have handled more than 1,000 cases of misinformation about the COVID-19 pandemic in Vietnam on social media.
Fourthly, the ministry has worked with competent authorities to raise awareness of the public about the need to ensure a healthy space on social media. Nowadays social media is not just a virtual space but it has become an important part of people's lives. If users are well aware of this, there will be no room for toxic content on social media.
Besides, the ministry has also collaborated with other ministries and agencies to handle other violations. For example, it worked with the General Department of Taxation to collect tax from these services. In the past year, we have collected more than VND1 trillion ($43.5 million). We also worked with the State Bank of Vietnam and other banks to prevent the cash flows originated from businesses operating illegally on social media. 
As you have mentioned, the authorities have to negotiate with social media corporations to prevent and remove toxic content and news. Could you elaborate on this?
Multinational corporations like Facebook, Google, TikTok, Apple have set their own rules and regulations known as community standards.
Earlier, they considered these community standards as the most important and disregarded laws of the countries where they did business. Before 2016, these corporations were persistent with this. In 2017, we started to have official exchanges and negotiations to ensure these corporations comply with Vietnam's regulations and they have changed gradually since then.
It is the trend of the world as other countries have also requested big social media corporations obey their laws. The companies have basically agreed and complied with the laws of host countries. In Vietnam, they have agreed with our requests to prevent illegal content. This is a very important step. Earlier Facebook handled about 20 per cent of our requests to remove anti-State and anti-Party content and 70 per cent of violations related to defamation but in 2020, these figures increased to about 90 per cent and nearly 100 per cent respectively. For YouTube and TikTok, the rates range from 90 to 100 per cent. 
The recent case of Youtuber Tho Nguyen and others in 2020 is a warning about toxic content on social media that harms children. What should we do to protect children from harmful content?
We have been implementing the five measures I mentioned and gained positive results. However, social media, like our real environment, can't be free from toxic things. The most important thing we can do is minimise toxic content and detect violations promptly.
This is the task for all, from the authorities to users, especially parents. Parents have to instruct their children on how to access information and protect themselves when using social media.
We have also requested social media corporations to have child protection measures, including building exclusive content and channels for kids.
We have YouTube Kids and other platforms have also committed to doing so. However, if parents allow their kids to use YouTube without supervision, then this won't work. Teachers and parents have important roles in teaching children to be smart on social media.  
VNS

Though YouTube was not initially designed for kids, some current content is warping young minds, raising alarm.