Vietnam faces shortage of artificial intelligence experts
Artificial intelligence (AI) is now at the center of the technology world. Many countries around the world have largely invested in AI and Vietnam is no exception.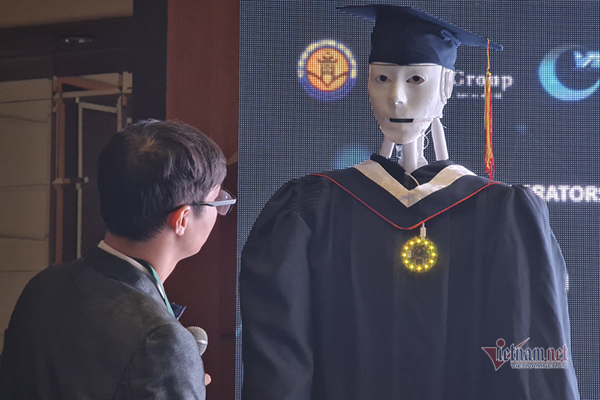 Tri Nhan - A robot developed by Vietnamese experts. (Photo: Trong Dat)
Technological powers have long built their own AI development strategies, taking this technology as the core to accelerate economic development.
Professor Nguyen Thanh Thuy (University of Technology – Vietnam National University) - Vice President of the National Program on Science and Technology 4.0, said the global artificial intelligence market will reach about 15.7 trillion USD by 2030.
Of which, China is expected to account for 7 trillion USD, equivalent to 45% of this market. North America will make up about $3.7 trillion, half that of China, followed by Nordic countries, and developed countries in Asia, Southern Europe and South America.
In Vietnam, according to experts at a recent workshop entitled "Artificial Intelligence and Humans: Multidimensional Impacts of a Technological Revolution", artificial intelligence is developing rapidly and gradually proving its position as a pillar technology, a breakthrough in the fourth industrial revolution.
In the past few years, many businesses and organizations in Vietnam have developed and applied AI in various fields, including education, information - communication, business, commerce, health care...
In early 2021, the Prime Minister issued the National Strategy on Research, Development and Application of AI to 2030, which aims at bringing Vietnam into the top four ASEAN countries in the field of artificial intelligence and building 10 prestigious AI brands in the region.
In recent years, Vietnam's AI industry has made remarkable progress with the increasing presence of AI technology in all areas of life. AI and AI application projects have attracted attention and investment not only from large technology corporations but also startups.
With the current rapid development, artificial intelligence in Vietnam is forecast to rise to new heights soon to join the world in solving the challenges of the century. This is a great aspiration, as well as a driving force for the innovative ideas of Vietnamese enterprises.
However, Vietnam is facing many difficulties. To develop AI comprehensively, Vietnam needs to solve problems in state management, policies, legal frameworks, human resources, infrastructure, data infrastructure, and the ways to collect and exploit Big Data.
According to Nguyen Hoang Oanh - Vice President of the Vietnam Japan University, AI training disciplines in Vietnam are still young and Vietnam lacks experts and lecturers in this field.
Ngo Tu Lap - Director of the International Francophonie Institute (IFI) – said that artificial intelligence is a field of fierce competition between great powers as well as countries like Vietnam to win new opportunities. AI will be an important factor, if not the most important, determining the success of countries in occupying the leading position in the world.
He said that AI is used all aspects of social life and bringing about positive results in education, health care, administration and the military. But the AI revolution also shows many negative sides.
Specifically, AI contributes to deepening the development gap between countries, the gap between the rich and the poor, and inequality in society. Artificial intelligence also makes us worry about privacy and information security.
AI is going into the smallest digital activities, changing people's behavior. The most recent controversy is the algorithms of social networks turning people into slaves of technology.
According to Ngo Tu Lap, technology can boomerang with an unforeseeable impact. Artificial intelligence also raises ethical issues, as it blurs the line between machine and human. That's when machine learning technology allows AI to become increasingly intelligent and even emotional.
"So will AI lead to disaster for humanity? Humanity will have to answer this question together," said Lap.
Pham Hong Quat - Director of Science and Technology Enterprise and Market Development Department (Ministry of Science and Technology) - said that if seeing artificial intelligence is an entity that can replace humans, this technology is fully functional in terms of intelligence, behavior and the ability to interact with society.
With that in mind, Quat questioned whether artificial intelligence would create a society of its own. What will happen if AI is getting smarter, but there is no mechanism to control it?
According to this expert, the advancement of technology can disrupt existing institutions that we cannot even imagine, especially social aspects. Therefore, it is necessary to think about the formation of legal mechanisms or institutions to control the artificial intelligence society in the future.
Trong Dat

Vietnam holds huge potential in the application and development of new technologies amid the wide utilisation of robot and artificial intelligence (AI) in daily life activities.

Artificial intelligence (AI) is now the focus of global technology, with countries spending billions of dollars in research and development (R&D) to be at the forefront of new technology.