Vietnam's tourism sector fights against plastic waste

The Vietnam Tourism Association and its chapters in the northern mountainous provinces of Phu Tho, Hoa Binh and Son La provinces are scheduled to launch an anti-plastic-waste action programme from July 15 to 17.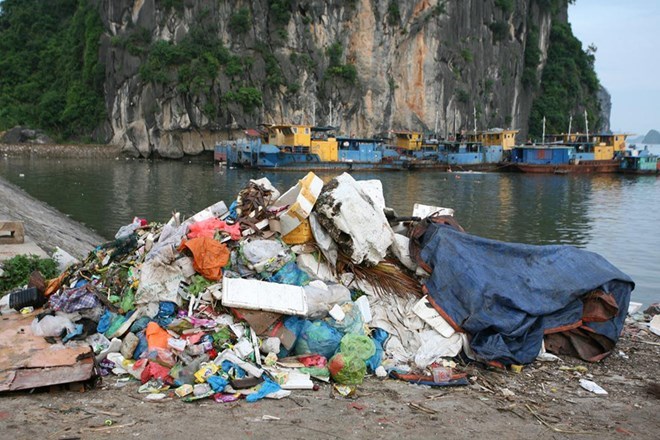 Illustrative photo (Source: VNA)


Accordingly, a parade advocating environmentally friendlytourism will take place in Phu Tho's Viet Tri city.

Hoa Binh will host an anti-plastic waste communicationscampaign, with local tourism businesses hanging related posters at theirpremises.

Meanwhile, Son La will hold an event calling for thedevelopment of eco-tourism and reduction of plastic bag use.

With 13 million tonnes of waste released to the ocean everyyear, Vietnam ranks 17th in the world for plastic waste pollution.

The country aims to reduce 65 percent ofnon-biodegradable plastic bags used at supermarkets and shopping malls by 2020compare to 2010. By 2026, it targets zero non-biodegradable plastic bags.
Cham Islands acts to eliminate plastic waste
The Cham Islands' Marine Protected Area (MPA) management board, in cooperation with the International Union for Conservation of Nature (IUCN), has launched a new garbage sorting programme as part of efforts to reduce plastic waste in Vietnam.
The project is one of 12 nationwide that IUCN and Greenhub – an NGO working in waste management – have implemented to support the community in classifying waste.
Bui Thi Thu Hien, Marine and Coastal Resources Program Coordinator at IUCN (Vietnam Office) said the programme will help staff of MPAs in Vietnam identify kinds of plastic waste.
Hien said the programme will also collect information to build a database on plastic waste and offer policy advice on how to reduce and control plastic waste and plastic production.
"It's crucial to help State agencies and ministries get clear data before offering appropriate policies in plastic waste management and production as well as supporting capacity for MPAs in waste management," Hien said.
She said the programme will take place at 12 MPAs at least once a year towards the target of 'zero-plastic waste'.
According to Greenhub, waste can be found at beaches from northern Quang Ninh province to Con Dao Island in southern Ba Ria-Vung Tau province, while plastic waste accounts for 80 percent of the total solid waste at 30 beaches in Vietnam.
Cham Islands, 20km off the coast of Hoi An, is the first site in Vietnam promoting the successful reduction of plastic bags and 3-Rs (reduce, reuse and recycle) since 2011.
The Islands – a World Biosphere Reserve site – ban all use of plastic bags among local residents and tourists, and launched the campaign 'say no to single-use plastic straws and cups' early this year.
The Islands, including eight islets with 3,000 inhabitants, hosts more than 400,000 tourists each year.
VNA