Thanh Hoa farmer protects wild birds with his love
Mai Van Quan has invested his own money to renovate part of a 22-hectare hill in Ha Trung Town, the central province of Thanh Hoa, to become a shelter for tens of thousands of storks.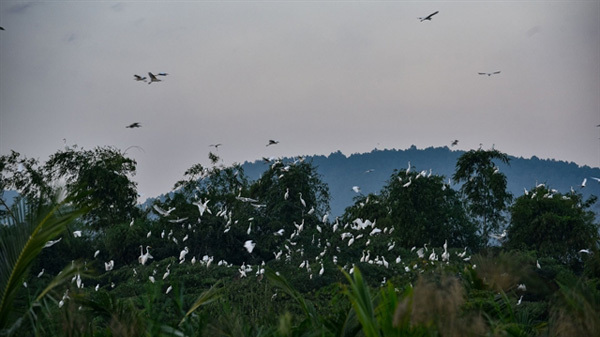 Storks nest on bamboo branches in Mai Van Quan's garden in Ha Trung Town, the central province of Thanh Hoa. — VNA/VNS Photo 
He divided the land into three areas, with two for breeding cattle and growing fruit trees, and the other as a shelter for the storks and many other types of creatures.
The 60-something Quan said for more than 10 years, he and his family members have planted trees and built a surrounding fence around the hill to protect the storks from bird hunters.
"Taking care of and protecting storks not only contributes to preserving the ecological environment but the work of the farmer is creating a beautiful natural landscape for the countryside here," said Nguyen Minh Tan, Chairman of Ha Ngoc Commune People's Committee, Ha Trung District.
As an experienced stork caregiver, Quan said storks flew 1km to 10km to search for food at about 5am to 5pm-6pm every day.
The feeding position and food for each species of stork is different.
Every afternoon, the storks fly in groups, swaying in the sky before returning to the garden to stay after a long day of foraging, Quan said.
"I am excited waiting for flocks of white storks to come and rest on their hill."
"This land was formerly a swamp, with only overgrown reeds. In 2004, my family bid for the purpose of building a farm."
During the process of renovating the swamp area, he witnessed some small groups of storks flying back to the garden to rest in the afternoon.
Initially, he thought the storks would only stay for a few days and then fly away.
"However, herds of storks often fly away, fly back, nest more and more eggs," he said.
Being a lover of nature and birds, Quan came up with the idea of building a safe place for the storks to live.
"At that time, the hunting of wild birds in the locality was a painful problem. Every time I went to the market, seeing the storks and wild birds being sold widely, I felt very painful. Therefore, I came up with the idea of protecting the storks and finding ways to attract more and more storks to return to care for and protect them," Quan said.
To protect storks from being shot by hunters and give them more space to nest, Quan has grown bamboo and other trees.
Bamboo has been erected to make a fence to prevent hunters from entering the storks' home. He discovered the number of storks came here more and more, with the figure now in the thousands.
Le Van Xuan, one of the three labourers he hired to take care of the garden and storks, said: "With an income of VND7 million per person each month, our job at the farm is to prune trees, plant new trees, take care of young storks, and repair nests."
"We spray the garden area with disinfectant to prevent disease and ensure the storks reproduce well," Xuan said.
"If a stork is found dead or has signs of disease, we report to Quan to invite medical specialists to test and treat them."
Nguyen Minh Tan, Chairman of Ha Ngoc Commune People's Committee, had high praise for Quan's work, saying to protect the storks against poaching, the local authorities have instructed police to support him.
Quan has asked the Thanh Hoa Provincial People's Committee for permission to build a farm in association with ecotourism development in this area. Hopefully, after the project is approved, Quan's farm will soon become an attractive eco-tourism destination. VNS

Every afternoon when the sun is about to set, Pham Van Cua and his grandchildren are excited waiting for flocks of white storks to come and rest on their hill.

While it is said that "land is as precious as gold", a 74-year-old farmer has decided to leave 20,000sq.m of land alone to give storks a home to nest and lay eggs.