Thailand to enhance water management through US$600-mln projects

The National Water Resource Committee (NWRC) of Thailand has approved three new major water management projects with a combined value of US$600 million and is now seeking cabinet approval on them.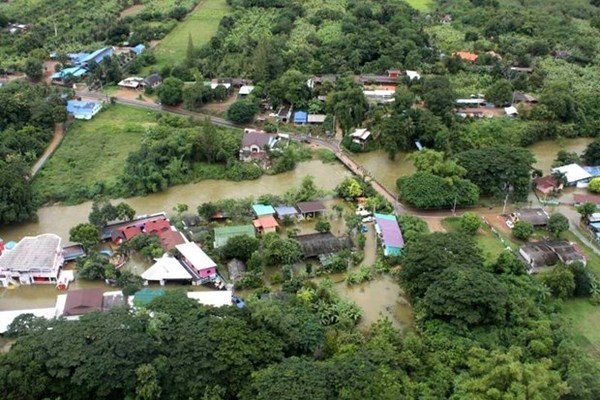 The Phetchaburi river overflows in Phetchaburi province last year. A project to enhance the drainage capacity of canals in the lower part of the Phetchaburi basin was endorsed on Thursday. (Source: bangkokpost.com)
The first project is a "construction for development" project, which consists of six sub-projects proposed by Provincial Waterworks Authority (PWA), said NWRC secretary-general Somkiat Prajumwong. The project requires about 11 billion THB in funding.
Once the project is complete, PWA's capacity of tap water production will increase by 332.4 billion cu.m per day, he said after NWRC meeting on the same day.
The second project is the construction of a drainage tunnel to connect Khlong Phasi Charoen with Khlong Sanam Chai, worth 6.13 billion THB.
The new drainage tunnel, named Khlong Phraya Ratchamontri, is designed to help enhance water drainage in Bangkok's Thon Buri district, he noted.The construction of the tunnel, scheduled to start in 2021, will take five years to finish, he added.
The third project is aimed at improving the drainage capacity of canals in the lower part of the Phetchaburi basin, which will improve the speed of water draining into the Gulf of Thailand, he said, adding that this project is also planned to begin in 2021 and will finish five years after that.
Aside from these three large projects, the NWRC also began looking into a total of 57,975 operation plans drafted under the Thai government's masterplan for water resources management. These plans will be implemented in the 2020 fiscal year, which begins on Octorber 1.
Somkiat said the water management projects were proposed by 28 organisations which are implementing the water resources management masterplan. The projects are estimated to require a combined investment of 310 billion THB (10 billion USD).
Separately, Thai Deputy Prime Minister Prawit Wongsuwon said the NWRC also resolved to set up two new centres for national water management, namely an ad hoc water management command to handle water crises and a water management war room./. VNA