Technology helps Vietnamese enterprises fly high

Bui The Duy, Deputy Minister of Science and Technology talks to Vietnam News Agency about the novel ideas of the Fourth Industrial Revolution.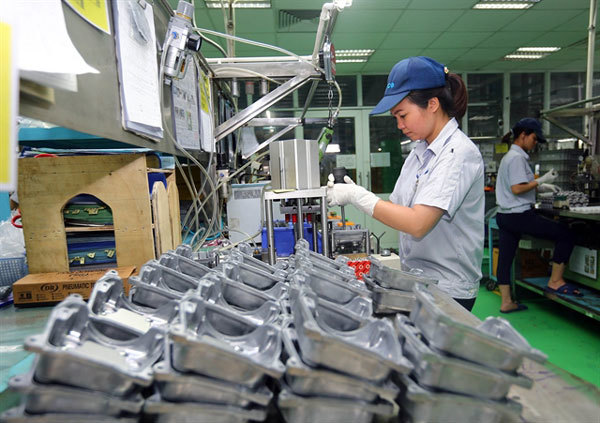 Workers produce mechanical goods at the Strong Way Co Ltd in the Khai Quang Industrial Zone in the northern province of Vinh Phuc. Advanced technology application has helped enterprises to improve competitiveness. 
What should Vietnam do to maximise the fast development of the Fourth Industrial Revolution?
A firm foundation for the Fourth Industrial Revolution (Industry 4.0) is a high level of integration among digitalisation – in physics and biology with a breakthrough of the internet of things and artificial intelligence.
Industry 4.0 will provide favourable conditions for Vietnam to be on par with other countries in the course of development.
It will also create favourable conditions for developing nations to apply new and advanced technology.
For Vietnamese enterprises, Industry 4.0 will help them improve competitiveness through the application of advanced technology. More importantly, it will make Vietnam a venue for more foreign projects with advanced technology and high added value.
Vietnam has a good IT infrastructure – a strong foundation for the country to develop its digital economy. Further, digital technology, particularly the internet of thing have helped improve Vietnamese people's living conditions.
In 2018, Vietnam ranked 88/193 countries (according to a United Nations survey on e-Government) for having introduced e-government principles. Hopefully, Vietnam will soon have a digital Government.
What sectors are most impacted by Industry 4.0?
Generally speaking, the Fourth Industrial Revolution has impacted on almost all socio-economic activities in Vietnam. Of course, the impacts vary from one sector to another. Theoretically speaking, labour-intensive occupations are most affected.
According to a projection by the International Labour Organisation (ILO), some 86 per cent of workers in the textile industry may face the risk of becoming unemployed. However, according to a recent survey conducted by Vietnam National Textile and Garment Group (Vinatex), that projection by the ILO was too high.
Meanwhile, many experts in the field of automation have predicted it is unlikely to greatly affect the textile industry as robots couldn't be used in all parts of the production chains.
The Ministry of Science and Technology would advise all occupational sectors to develop their own plans to utilise opportunities arisen from Industry 4.0 and limit its impacts on their labour force.
Has the Ministry of Science and Technology adopted a plan to put the Industry 4.0 into life?
Acting as a focal point, the Ministry of Science and Technology has worked closely with local governments and local agencies to carry out all the tasks assigned by the Government, including the project 'Supporting National Innovative Start-up Ecosystem'.
We hope with efforts from concerned Vietnamese and foreign counter-parts, Industry 4.0 will be implemented successfully.
Of course, the Ministry of Science and Technology will encourage all enterprises to create their own fund for the development and application of science and technology projects while co-operating with other enterprises to apply their technology projects on a larger scale.
Last but not least, the MOHA encourages all enterprises to promote co-operation with their foreign counterparts in their exchange of scientific research and application. — VNS

The Fourth Industrial Revolution brings not only new issues, but also possibilities for Vietnam's education and training sector to improve its quality in order to overcome the thirst for high-level labour.

The goal of having 30 percent of online public services at level 4 may be unattainable if the building of e-government does not succeed.