Startup bridges parties to have better waste treatment

Treating waste is not an easy task in Vietnam. A start-up has chosen for itself the tough job of connecting various parties for treating waste. 
VNS speaks with Hai Binh, founder of Revival Waste, to ask him how his company works and about his ideas for treating waste.
Hai Binh, founder of Revival Waste.

What inspired you to get into the business of recycling garbage?
Garbage has for a long time remained a big issue facing society. The more developed the society, the more serious the garbage problem is. In Vietnam, garbage is likened to a "disaster" because 20 million tonnes of waste are discharged every year.
In the past I always wondered why no one did anything to solve the problem until the day I realised that someone was me.
The time I recognised that was the day when my kid started drinking milk. Every day two or three milk cartons were thrown into the dustbin.
At that time an idea was born in my mind. I asked myself: "What will happen to these milk boxes after millions of Vietnamese children drink milk every day?"
Seeking information I further discovered that not only milk boxes but also other garbage like plastic cups, straws and instant noodles packs are buried or thrown into places like rivers, ponds, etc.
All this rubbish had the same characteristic: no scrap dealer would buy them. So I called it 'death garbage.' Every year there are millions of tonnes of death garbage. Only 10 per cent of them are collected and recycled and 90 per cent are buried or thrown into rivers and ponds and go to the sea. Meanwhile, 80 per cent of manufacturing companies in Việt Nam import plastic waste as feedstock.
From that, I decided to start our journey called Revival Waste.
Please tell us how your company takes part in the waste recycling process?
Revival Waste was set up in September 2018 by a group of people who care about the environment. Initially we had organised movements and campaigns to deal with death garbage. A few months later we found that our activities could be developed and expanded, and we decided to establish a social start-up called Revival Waste.
At Revival Waste, we set up a platform to connect parties including garbage discharge sources like food and beverage stores and coffee shops, authorities, producers, waste collectors and recycling companies so that all parties could join hands to solve the problem.
These five parties are the main stakeholders in the waste recycling process but the links between them are weak. That is why we want to connect them.
Our company will sort collected wastes. The parties will then be advised on the best methods to recycle the waste. My company together with the parties will design and run trial models to recycle waste.
This way our company set up a circular system in which death garbage is collected, sorted and sent directly to recycling plants. We think that will help fix the problem for good.
Vietnamese often think that only garbage that can be sold to scrap dealers can be recycled.
In Revival Waste, we focus on death waste which no one buys or takes even for free.
We believe that this way we can help reduce the volume of buried wastes and waste imports.
My company does not compete with companies working in the traditional waste market. We help them expand the market, increase the benefit and optimise their operation so that we can all set up a waste recycle system.
What is your first thought when we talk about garbage? It should be a common perception of dirty, bad smell. Vietnamese garbage normally has many extraneous matters.
This perception is the main reason for the fact that waste-recycling companies often import waste from foreign countries.
That is why at Revival Waste we create clean waste.
In the next stage we will expand our operation and business. We will further co-operate with relevant parties to provide technical support to waste recycling companies so that they can meet environment standards.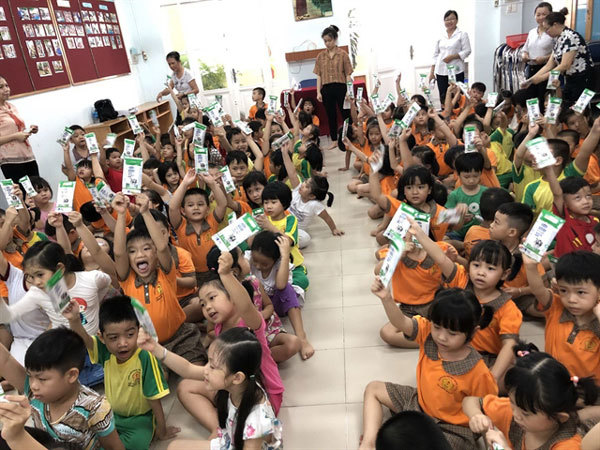 Children at a class in HCM City. Revival Waste has been collecting milk cartons and garbage from 660 schools and 38 garbage collecting points in HCM City and nine neighbouring provinces. Photo Courtesy Revival Waste
 
What has your company achieved since its establishment?
We started our business by recycling milk cartons. We have been collecting milk cartons and garbage from 660 schools and 38 garbage collecting places in HCM City and nine neighbouring provinces. In Hanoi, we have tied up with 800 schools.
We have also run trial programmes with three food and beverage chains and 172 coffee shops to collect garbage. The company has provided consultancy to many supermarkets and apartment buildings in recycling waste.
We have joined hands with partners to collect and help recycle two million milk cartons, 10,000 plastic cartons, 2 million straws, and over 100,000 plastic bags.
Our target is that by 2030 all the garbage in the country is treated in the correct way.

What were the challenges you faced since starting the business?
Like other start-up companies, we are also facing many difficulties in terms of human resources, finance.
However, the biggest challenge for us is to create and maintain awareness of waste sorting so that it becomes a regular habit among people in Vietnam.
We are making all efforts to overcome these difficulties. Furthermore, we are trying to properly develop our project so that it does not end up [merely] as a 'propaganda' programme.
It will take us not one or two years but a long time to achieve the dream.

You successfully raised VND1 billion through Shark Tank, a reality show for start-ups. How do you plan to use the money?
The money will be used for research and development so that we can expand the categories of death waste. The company will also use that money to expand its trial models.
In addition to support from investors on Shark Tank, we have received support from other investors and I think our operations will soon develop and expand.
I have worked in communications for over 20 years. During this time I had the chance to take part in many environment projects and so gained a lot of experience in waste treatment. In addition, I have received supports from many partners so I believe we will be successful.

Management of solid waste has not met the requirements of environmental protection, thus Vietnam is making efforts to manage solid waste in a more effective way, Deputy Minister of Natural Resources and Environment Vo Tuan Nhan said.

Hanoi is facing the waste disposal overloading as dumping sites are almost full, while waste treatment projects are behind schedule.
VNS