Scientists help farmers save money with locally made drones
Tran Phi Vu, PhD in UAV, and Pham Thanh Toan, MA in Deep Learning, are two of the 14 names nominated by VietNamNet as Inspiring Characters in 2020.
Vu and Toan are the founders of MiSmart, specializing in researching and developing unmanned aerial vehicles (UAV). With enthusiasm and deep knowledge, the two young engineers have created made-in-Vietnam drones.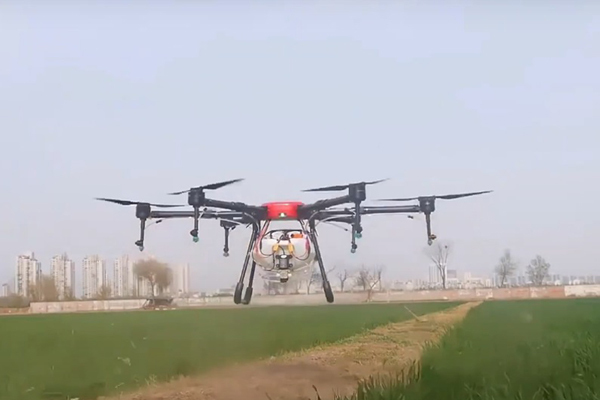 The project won first prize at Viet Solution, a competition seeking solutions to Vietnam's digital transformation organized by the Ministry of Information and Communications (MIC).
The UAVs created by MiSmart are large drones with six propellers. Unlike other drones, MiSmart's UAV is integrated with AI to analyze and process input data.
The drones fly over large fields to take pictures and transfer images to the server to analyze. Integrated with AI, drones perform reconnaissance missions to find areas infected with pests. After locating them, the drones spray chemicals on the areas to treat plants.
Previously, farmers, unable to find pest infected areas, sprayed chemicals on a large scale. As a result, Vietnam's farm produce has a high pesticide residue level, which affects sales.
Solutions like MiSmart's are also available in the market. However, these drones are attached with near-infrared camera sensors and are expensive.
MisMart's solution can solve the problem by using high-resolution low-cost cameras, which was noted by the Viet Solution contest.
After drones take pictures and send them to the server, the images are analyzed with AI technology to find abnormal sites. Drones fly to these areas to take more pictures of the pest infected areas.
The UAV models developed by MiSmart are made of carbon fiber. This material is lighter than aluminum but five times harder than titanium. The device can carry 23 liters of water and pesticide.
Under the rotating action of a centrifugal disc, the drops of solution are turned into a mist with very small size, 95 - 550 µm, increasing the permeability of plants.
MiSmart drones are believed to work 40 times more effectively than devices using traditional spraying methods. They are able to create isolate pest infected areas, thus reducing pesticide abuse and saving money.
MiSmart sells and leases drones. A MiSmart drone is priced at VND200-250 million.
MiSmart's drones have been commercialized for six months with two models Mis GA-22 and Mis TH-16.
The personalities nominated by VietNamNet as Inspiring Characters have made significant contributions to the community and have previously appeared on VietNamNet. 
Ha Hung

Prime Minister Nguyen Xuan Phuc has issued a decision stipulating the no-fly and restricted zones to unmanned aerial vehicles (UAVs) and ultra-light aircraft.  

The central province of Quang Nam and the Loc Troi Group have launched the use of drones in agriculture production – the first step in boosting hi-tech farming and joining the global farm produce supply chain in the near future.