'Say No' to rhino horn consumption in Vietnam
The animal protection organisation Humane Society International and Vietnam Airlines began a campaign against the consumption of rhino horn consumption by screening a short film,
titled 'When I Grow Up', on all Vietnam Airlines flights as well as in premium airline lounges across Vietnam.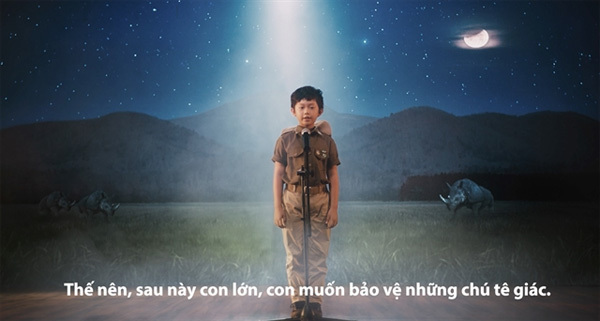 Hero Boy, a character in the short film, titled 'When I Grow Up', which will be shown to passengers on all flights of Vietnam Airlines. It aims to promote the reduction of rhino horn consumption. Photo courtesy Humane Society International
The film features Vietnamese primary school children sharing their big dreams for the future.
The film is an emotionally charged commercial to reduce demand for rhino horn among affluent air travellers in the hope of reducing demand for rhino horn in Vietnam which will help to ultimately end the poaching of rhinos in Africa. 
"Our rhino horn reduction commercial will run consecutively for a six-month period starting January 2021. By reaching the targeted demographic of mostly affluent air travellers with our tailored campaign messages, we expect to achieve demand-reduction results. We strongly believe that reducing rhino horn demand will reduce the number of rhinos poached in Africa," said Tham Hong Phuong, HSI Vietnam country director. 
Dr. Teresa Telecky, vice president of Humane Society International Wildlife, added: "The increased demand for wildlife products in Vietnam and other Asian countries is one of many key threats to endangered species over the world. I hope our message can touch emotions and gradually change behaviour."
Toby Wosskow, British-American award-winning filmmaker who is the project's creative director, said: "I'm grateful to have been part of such a special project. I was inspired by the passionate team in Vietnam who brought this story to life. In the commercial, when the young boy stands in front of the rhinos, the look he shares with his father and grandfather sends a universal message: it's never too early or too late to stand up for what is right."
'When I Grow Up' is funded by the Glen and Bobbie Ceiley Foundation and is part of HSI's long-term efforts to reduce the consumption of rhino horn and other wildlife products in Vietnam and other countries.
"When first hearing about the concept, I was drawn to how powerfully a little boy's courage can motivate emotional change and I realised how crucial the message of reducing rhino horn usage should be. I am honoured to play a part in shedding light on this tragic cause that needs to be addressed. It was great to collaborate with such a passionate team," said Kathy Uyen, who directed the commercial.
HSI is looking forward to cooperating with business associations and government websites that will feature the commercial and help spread the message of rhino conservation and demand reduction. Three versions of the commercial will also be broadcasted virtually through HSI's social media channels and via project partners. 
Humane Society International works around the globe to promote the human-animal bond, rescue and protect dogs and cats, improve farm animal welfare, protect wildlife, promote animal-free testing and research, respond to natural disasters and confront cruelty to animals in all of its forms. Humane Society International started working in Vietnam from August 2013.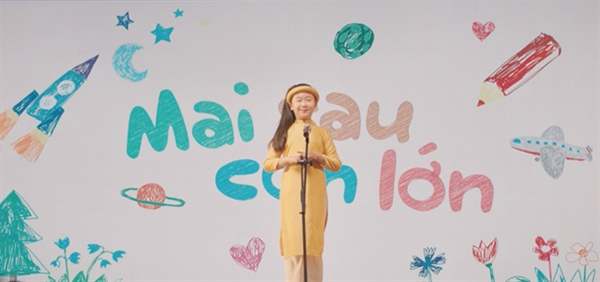 An image of a short film, titled 'When I Grow Up', launched by Humane Society International on rhino horn consumption among Vietnamese consumers. Photo courtesy of Humane Society International
Rhino horn is valued in countries like China and Vietnam for medicinal benefits even though there is no scientific evidence to back these claims. Horns can be sold for high prices on the black market. However, there are indications that the price has fallen recently in Vietnam, due in part to a rhino horn demand-reduction campaign launched in 2013 by HSI and the Vietnamese government. This multi-faceted campaign has reached an estimated 37 million people – approximately one third of the population.
With HSI's support, for the first time in the country's history, Vietnam destroyed over two tonnes of ivory, 70kg of rhino horn, and other seized wildlife specimens. This sent a powerful message to the public and the international community that these animals are valued rather than the products derived from them.
HSI partnered with the Ministry of Agriculture and Rural Development and the Ministry of Education and Training to implement a ground-breaking project to tackle the illegal wildlife trade. This project developed and distributed educational lessons on threatened wildlife to millions of schoolchildren in Vietnam as part of an effort to put an end to the illegal trade in rhinos, elephants, pangolins, tigers and more. VNS

Pham Van Dien, Deputy Director of the Vietnam Administration of Forestry, talks on the country's efforts to consolidate the legal framework on wildlife protection.

Displaying an ivory bracelet on Zalo, a man called Tuan Tay Nguyen tells me: "It is from a real tusk. It will bring lots of luck to your life. Believe me."