Sanitation workers battle rubbish in Ha Long Bay

A sanitation team in Ha Long Bay is working hard to collect a huge amount of rubbish on the beach while dealing with poor attitude from some of the visitors.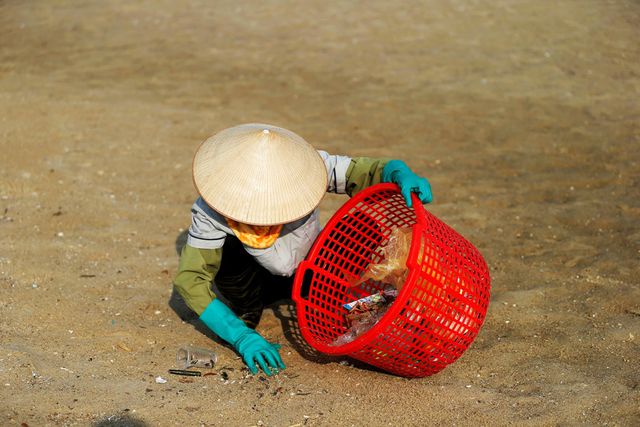 Collecting small items on the beach
The workers have to comb the sand carefully in order to find small items such as the toothpicks or sunflower seed shells. They even found a box of instant noodles and huge plastic water boxes.
According to the management board, there are 500 rubbish bins along the beach, but 20 sanitation workers still have to work constantly in order to deal with the amount of plastic rubbish and foam boxes.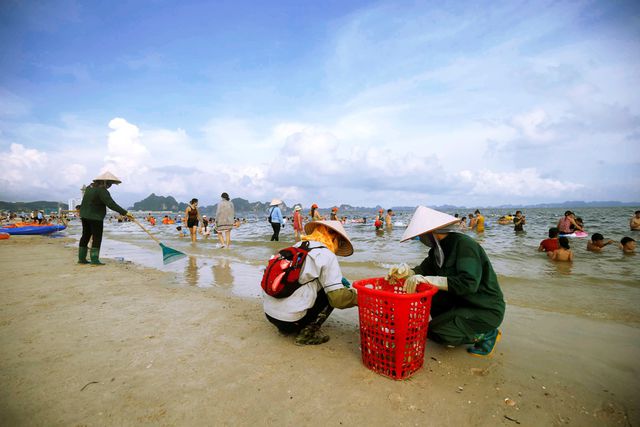 Collecting rubbish while others swimming
During summer, they have to divide into two shifts with the first one starts from 6 am to 10.30 am and the second from 2.30 pm to 6 pm.

Luong Quy Don from Ha Long Sun Company said they collected six tonnes of rubbish each day on Bai Chay Beach, most of them are plastic wastes.
Tran Thi Tam, a sanitation worker, said they had to wear two to three gloves at the same time as a protection against the sun.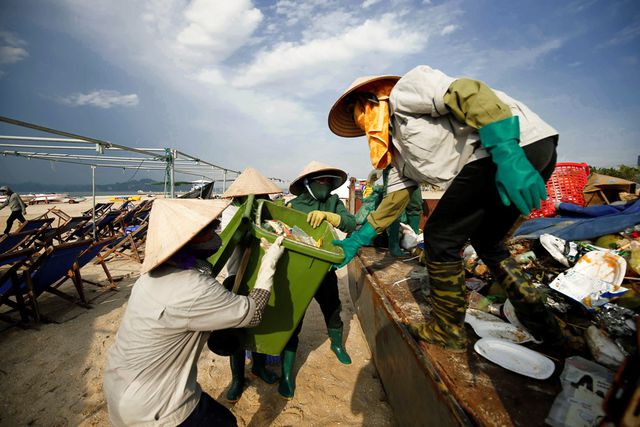 About six tonnes of rubbish collected each day
"Sometimes, my mood is really bad because of the poor attitude of some of the visitors whenever I reminded them to put the rubbish into the bins.
But at the end of the day, seeing the beautiful clean beach is already a good enough motivation for us to return to work," she said.

Phan Thi Thuy, another worker, said her job was usually looked down on by other people. "But as long as the beach is clean and loved, I feel satisfied," she said. Dtinews

One person was dead while 15 others went missing in the north central province of Thanh Hoa early August 3 due to landslides and floods triggered by rains brought by storm Wipha, which landed in northern Vietnam the previous night.  

Storm Wipha made landfall in the northern coastal province of Quang Ninh on August 2 night and has weaken to a tropical depression, delivering drenching rains and strong gusts to northern and north-central localities.