Rescue centre built in Cu Lao Cham to help fallen baby swallows

A rescue centre has been set up for the first time in Mui Dua Cave on Cu Lao Cham Island in an attempt to rescue thousands of baby swallows which fall from their nests each year.
Quang Nam: resorts 'swallow' forests, 'block' sea
Biodiversity protection promoted on Cham Islands
Hatchery project to save sea turtles in Cu Lao Cham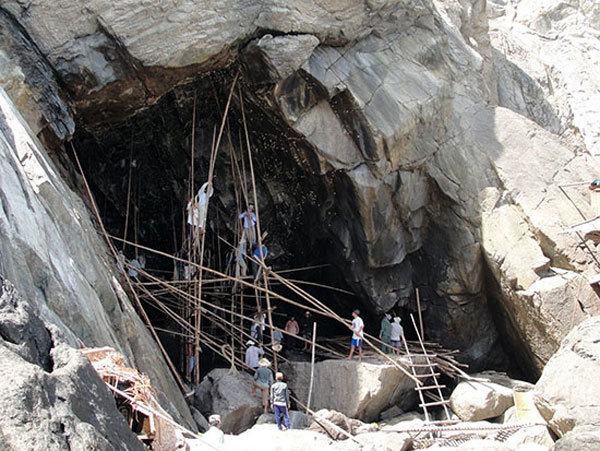 People harvest birds' nest in a cave on Cu Lao Cham Island in central Quang Nam Province. Photo baoquangnam.vn
This is an effort by authorities in the central province of Quang Nam to hold back the severe decline in the number of edible Vietnamese Salangane nests, which are considered a highly nutritious delicacy in Vietnam (known as yến sào), in recent years.
Cu Lao Cham Island is known as the kingdom of birds' nests in Vietnam. Wild swallows often build their nests in the caves on the island, bringing the high output of more than 1,300 kilogrammes of raw birds' nest per year.
The cost of each kilo of birds' nest ranges between VNĐ30-120 million (US$1,320-5,280).
However, the output of birds' nest has decreased since 2013, to an average of about 750 kilogrammes.
Huynh Ty, deputy head of the management board of birds' nest on Cu Lao Cham Island, told Tuổi Trẻ (Youth) newspaper the main reason for the decline was that the nesting place was not guaranteed and food sources were increasingly scarce.
As a result, the rate of baby swallows managing to leave the nest alive was very low as many were not healthy and mature enough.
The fallen baby swallows had little chance of surviving, especially in caves with high densities of swallows. This number could reach up to 5,000 swallows each breeding season.
In 2017, the management board has cooperated with scientists to research the rescue of fallen baby swallows on the island.
The initiative of building a rescue centre for these swallows was warmly welcomed.
However, the preparation for the construction of the rescue centre took two years.
A group of scientists researched ten caves on the island to find the best place to build the rescue centre. Mui Dua Cave was chosen.
In July, the centre was built.
The centre is a 150 square metre house. Inside the house is a small water tank and insect rearing system, which is the main food source for baby birds.
Currently, there are more than 80 staff working for Mũi Dứa Rescue Team. Their job is to look after the birds' nests, rescue fallen birds and return them to nature when they're healthy and mature.
Vo Quy, a member of Mui Dua Rescue Centre said all members had little chance of getting back to the mainland in the two months of July and August as this was the main time of birds hatching.
Fallen baby birds were mostly between one and 22 days old. Most were dead while some were at risk of prey for wild rats or cats.
The workers had to keep watching the nest around the clock and installed a net to catch any that fall.
These birds would be gathered, cured and fed.
When they were healthy, they would be helped to fly before being released into nature, he said.
The centre had managed to rescue 500 fallen birds since it was built. The number was quite modest compared to the 2,000-4,000 fallen birds per year, Quy said.
For Quy, the happiest moments for the rescue team was when healthy swallows are released.
VNS