Portal on preventing and combating spam launched
The Authority of Information Security (Ministry of Information and Communications) officially put into operation a portal to prevent and combat spam messages and spam emails at http://chongthurac.vn this week.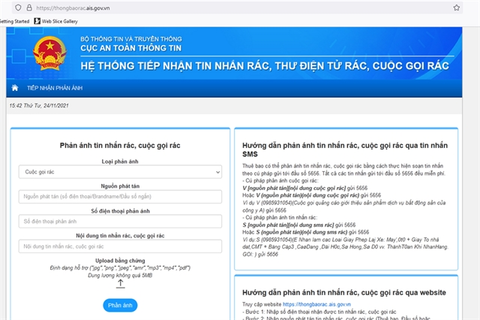 The interface of the portal chongthurac.vn. — Photo BNEWS
Thus, in addition to sending a notification message about the phone number spreading spam to the hotline 5656, from now on, individuals and organisations can look up their identifiers online through the portal chongthurac.vn.
Previously, the Authority of Security Department allowed organisations and individuals to search through SMS messages. Currently, individuals and organisations can look up identifiers on the portal.
The addition of the identifier name lookup function on the website is a prominent new feature, helping organisations and individuals easily look up online identifiers issued by the Authority of Information Security or declared by telecommunications carriers.
The portal also posts instructions and information on spam messages, phishing messages, spam calls, scam calls, spam emails; inspection, examination and sanctioning activities and technology solutions related to the prevention, combat and blocking of spam messages, spam emails and spam calls.
Along with linking to the non-advertising list management system and guiding people to register or unsubscribe from the non-advertising list, the Viet Nam Computer Emergency Response Team (VNCERT) will also update and publish a list of IP addresses and IP range spreading spam messages on the portal.
Source: VNS