Poor air quality forecast between March 1-6 in the north
The air quality between March 1 and 6 in north-eastern localities and the Hong (Red) River delta as well as Thanh Hoa Province is forecast to be poor.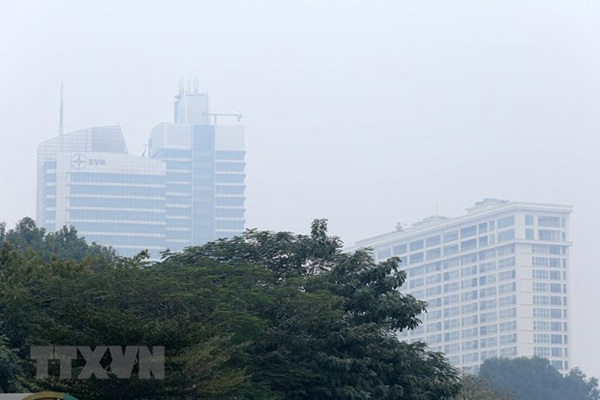 High-rise buildings are covered by haze and fine dust in Hanoi. —VNA/VNS Photo Hoang Hieu
Environmental experts said the weather phenomenon would cause particulate matter 2.5 (PM2.5) to stay at ground level, leading to unhealthy air and negative impacts on human health.
Associate Professor Tran Thi Tuyet Hanh, lecturer at the Environmental Health Department, Hà Nội University of Public Health, said PM2.5 fine dust was considered the air pollutant, which has the most negative impacts on human health.
Because of its very small size, the fine dust is very dangerous, it is able to deposit, absorbed and go deep into the alveoli in the lungs and into the bloodstream.
Exposed to polluted air, people are at risk of acute symptoms such as headache, allergies, fatigue and dizziness, and chronic diseases including respiratory diseases (e.g., pneumonia, tuberculosis and chronic obstructive pulmonary disease, lung cancer, and asthma), low birth weight, cataracts, and cardiovascular problems.
She also added international research results showed that the fine dust usually contains various heavy metals, which can cause cancers, or affect DNA and cause genetic damages.
On March 1, data from the website www.moitruongthudo.vn of the People's Committee of Hanoi and applications of VN Air, PAM Air and Air Visual showed that many monitoring stations' air quality indices in the localities and Thanh Hoa Province were at red and orange levels.
According to the Air Quality Index, orange is equivalent to poor (101-150). At this level, sensitive people might experience health problems while normal people will suffer little effects.
Red is equivalent to a bad level (151-200). At this level, normal people's health could be affected while sensitive groups might experience more serious health problems.
At 8:00pm on Monday, the VN Air application, run by the Vietnam Environment Administration under the Ministry of Natural Resources and Environment, revealed that there were 22 orange air quality indexes and three red air quality indices in Hanoi. The red air quality indices were found at the People's Committee of Cau Dien Ward; Hang Ma Ward's Police Station and the People's Committee of Thanh Xuan Commune in Soc Son District.
The AirVisual application (a product of the IQAir Foundation that owns a huge amount of aggregate data on air quality, headquartered in Switzerland) showed that most of the air quality indices were in orange and red, however, the indices were mainly at the level of 151-155.
At the same time, the PAM Air application (managed by D&L Technology Integration and Consultancy Joint Stock Company) also recorded most of the monitoring stations' air quality indices at orange and red, consisting of two stations in Chuyen My Commune, Hanoi's Phu Xuyen District and Van Con Commune. Hanoi's Hoai Duc District had the highest index of 178. The website www.moitruongthudo.vn also showed 23 monitoring stations with orange air quality.
During poor and bad air quality conditions, the environmental experts recommend people should limit their outdoor activities, close windows in the morning and use dust masks when going out. People, especially the elderly and children, should clean their nose with physiological saline.
In an effort to fix the situation, the environment ministry will assess the implementation of the National Action Plan on Air Quality Management by 2020, and propose the Air Quality Management Plan for the 2021-25 period to Prime Minister Nguyen Xuan Phuc in the first quarter of this year.
In a related move, PM Phuc recently issued Directive 03/CT-TTg on strengthening control of air pollution. The directive provides solutions to help the environment ministry and relevant agencies control air quality.
Hoang Duong Tung, president of the Vietnam Clean Air Network, told Kinh tế Môi trường (Economics and Environment) online newspaper that air pollution was mainly due to increased emissions including increasing vehicles and impacts from burning straw, waste and honeycomb charcoal.
According to statistics, the city now has 55,000 honeycomb charcoal stoves, burning up to 528 tonnes of coal and emitting 1,870 tonnes of carbon dioxide (CO2) to the environment every day, he said.
He said it was time to clarify the responsibilities of the concerned agencies related to air quality.
Motorcycle emissions must be strictly controlled as they are with cars. There must be measures to strictly manage waste from craft villages, especially recycling craft villages and dust from construction sites, he said.
Tung said fighting air pollution was a tough, long and complicated battle because it would directly impact the interests of people and businesses. Thus, authorised agencies should focus on disseminating information on the importance of air quality to get support of people and business as well as conduct more inspections to deal with violations.  VNS

The People's Committee of Hanoi has rolled out various measures to improve air quality amidst the alarming pollution level in the city in recent days.

The Ministry of Natural Resources and Environment (MONRE) has requested provinces and cities thoroughly handle hotspots of air pollution and exhaust gas emissions.