Policies manifesting to enhance sci-tech sphere

The government will enact new mechanisms to attract more investment into science, technology, and innovation, turning these sectors into the economy's key impetuses for further growth and labour productivity improvement.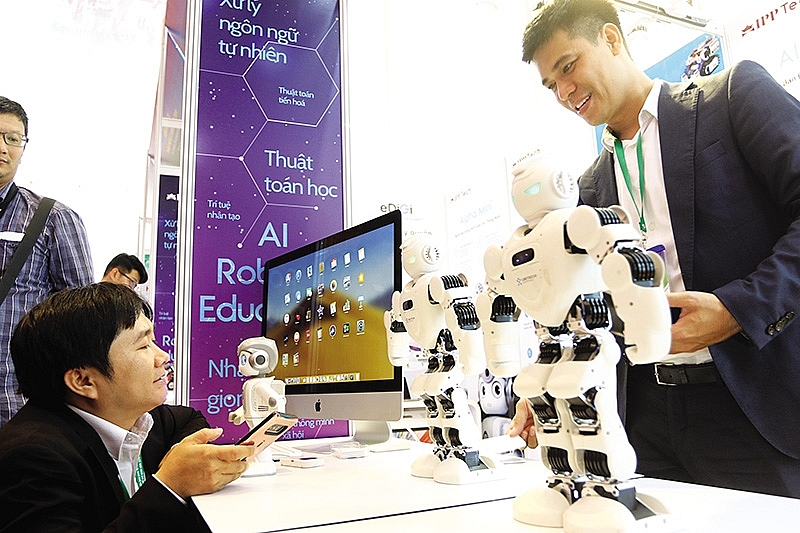 Science and innovation, and making it easier for groups to carry out work in these areas, is a key focus for the country
Prime Minister Nguyen Xuan Phuc told the National Asssembly (NA) at its Q&A session last week that in 2020, when economic growth is expected to be 6.8 per cent, the government "will strongly develop the scientific and technological market, and promote innovation with enterprises considered to be a centre of development."
"The government will have strong new policies and mechanisms to attract investment and boost science and technology as a key propellant for economic growth, with improved productivity and competitiveness, in line with the Politburo's Resolution 52 on Vietnam joining Industry 4.0," he stated. "We will soon put into operation the National Innovation Centre (NIC) and startup centres, and enact more breakthrough policies to develop new products, services, and business models, with the application of high technology and strengthening of intellectual property protection."
The NIC, the first of its kind in Vietnam, will work together with domestic agencies and institutes to conduct research and devise policy frameworks to accept and allow the piloting of new technologies via the development and application of public-private partnerships in order to create new environmental-friendly products.
Next year, the NIC will focus on researching e-payments and e-commerce in Vietnam in order to advance suitable policy recommendations for the country in line with international practices.
"With a population of nearly 100 million people, Vietnam has a great market for scientific and technological development," PM Phuc stated. "We encourage private investors to invest into IT infrastructure. Investment is called for into the sectors of IT, fintech, agriculture, industry, telecoms, and e-banking."
The prime minister's words follow a number of NA members asking him about the new growth driving forces for Vietnam next year.
"Over the past few years, the Party and the state have enacted many orientations and policies to develop science and technology in service of national development. However, they have yet to become a direct propellant for national development," stated NA deputy Nguyen Thi Kim Be, representing the southern province of Kien Giang. "So, what will be the solutions for the scientific and technological market, so that enterprises and organisations can enhance their roles?"
Deputy Do Thi Thu Hang, representing the southern province of Dong Nai, also asked PM Phuc, "In order to mitigate risks and take full advantage of new opportunities from Industry 4.0, the ­government has considered productivity improvements and innovation a key impetus in order to soon change the country's growth model. So what will the government do to ­effectively implement this programme?"
In its socio-economic development plan, in addition to a goal of 6.8 per cent in GDP growth, the government has set an inflation target of below 4 per cent, an export turnover rise of 7 per cent on-year, and total development capital of 33-34 per cent of GDP.
"In order to boost science, technology and innovation, the government will continue ordering ministries, agencies, and localities to review and remove the list of business lines which are subject to conditions via the amendments to the Law on Investment," the prime minister stated. "The continued removal and simplification of regulations on business conditions must ensure that these changes will have significant practical impacts on the public and businesses."
NA Chairwoman Nguyen Thi Kim Ngan added that the country will promulgate special policies to support digital enterprises. Vietnam will also continue research and application of high technology.
"We will build a strategy on e-government for the 2021-2025 period with a vision to 2030, a national strategy on data governance, and develop a national database centre used for localities, ministries, and agencies," she said. VIR
Thanh Dat

Team AWM from Vietnam took first place at the Regional Final of the ASEAN Data Science Explorers 2019 held in Bangkok on Thursday.

Vietnamese students participating in the International Science Competition 2019 (ISC) in Bogor, Indonesia, have enjoyed success in the event, with all of the delegation's members bringing home prizes.