Only three Hoan Kiem turtles identified globally
Scientists have identified three Hoan Kiem turtles (Rafetus swinhoei) in the world today, including two in Vietnam and one in China.
The Hoan Kiem turtle used to have a large distribution area stretching from the south of the Yangtze River (China) to central Vietnam.
However, hunting by humans and changing habitats have caused the rapid decline of this species. In 2012, scientists placed Hoan Kiem turtle on the list of 100 rarest animal species in the world and a unique turtle species, only existing in Asia.
After the giant Hoan Kiem turtle died in Hanoi's Hoan Kiem Lake in 2016 and the female Hoan Kiem turtle in Suzhou Zoo in China died in 2019, the world officially recorded three individuals, including one male turtle at Suzhou Zoo of China, and two in Vietnam, including one in Xuan Khanh lake and one in Dong Mo lake.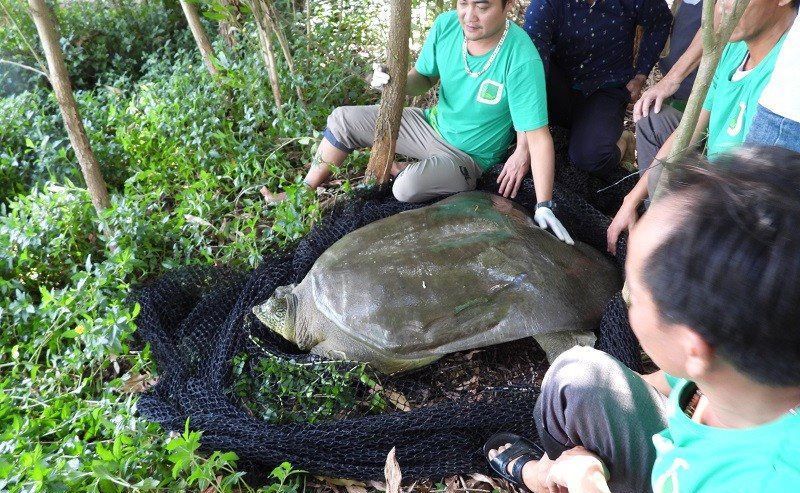 The Hoan Kiem turtle at Dong Mo Lake has been trapped by experts from the Asian Turtle Program for research and conservation.
In addition to the significance for conservation, the Hoan Kiem turtle has long been associated with the cultural and spiritual life of Hanoians in particular and the Vietnamese people in general. This species of turtle lived in Hoan Kiem lake for a long period of history, associated with the legend of national hero Le Loi.
For the past 17 years, the Asian Turtle Program (ATP) has been working to conserve the world's rarest turtle species. The most important achievement was the discovery and conservation of two Hoan Kiem turtles in Dong Mo Lake and Xuan Khanh Lake.
Recently, the Hanoi Department of Agriculture and Rural Development cooperated with ATP and the WCS Wildlife Conservation Association to successfully trap a Hoan Kiem turtle in Dong Mo lake, to serve conservation and breeding of the world's rarest turtle.
According to ATP, it will trap and capture the second Hoan Kiem turtle in Xuan Khanh lake to identify genes and sex, for conservation purposes.
ATP is also looking for other individuals in the wild. The 17-year survey of ATP has had good news: Besides the two turtles at Dong Mo Lake and Xuan Khanh Lake, many other areas may have this rarest turtle species.
Mr. Nguyen Tai Thang, coordinator of the Hoan Kiem Turtle Conservation Project of ATP, said: "We have recorded about 30 rivers and lakes in 28 provinces and cities that may have the Hoan Kiem turtle species. We will continue to investigate, survey and conduct environmental genetic analysis to detect this turtle in the most potential areas."
Danko Group has donated VND1 billion to ATP to promote the conservation of this rare turtle species in Vietnam.
Thai Binh
How is the Hoan Kiem turtle preserved?