Online logistics model used to sell farm produce
Hundreds of tons of litchis were exported to choosy markets in May via Vietnam Post's e-commerce platform. This was the beginning of a logistics model specifically designed for farm produce.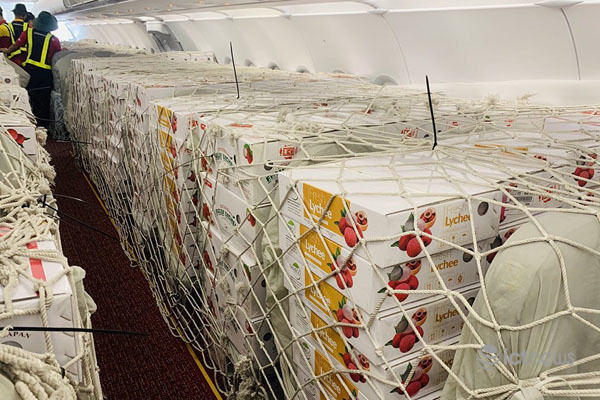 The first meeting discussing plans on helping farmers display goods on e-commerce platforms and accelerating the digital agricultural economy and rural development (Plan 1034), and ensuring the supply of essential goods by large postal companies in cities/provinces under lockdowns (Plan 1035) convened in mid-July.
Deputy Minister of Information and Communications Pham Anh Tuan at the meeting asked for a new focus on helping farmers sell seasonal produce.
As many localities applied social distancing measures, the two largest postal companies Vietnam Post and Viettel Post, with coordination of the taskforce set up by MIC, helped boost sales of farm produce throughout the country.
A report showed that as of October 8, postal companies had helped 19 southern cities/provinces consume 1,763 tons of farm produce and 40,750 coconuts. The supply of essential goods in the localities under social distancing also ran well, with 103,000 tons of goods provided as of October.
Postal companies have also helped bring Vietnam's specialties to choosy markets such as Germany, Japan, Australia, Czechia and France.
A representative of Vietnam Post said a logistics model has been developed, specifically serving farm produce, stemming from the sale of litchis for the farmers in pandemic-hit province of Bac Giang.
He said Plan 1034 created more opportunities for his company to be engaged deeply in farm exports.
Postal companies have also helped farmers in many other ways.
Nguyen Van Kien from Chau Thanh district Post Office in Dong Thap province said officers go directly to farmers' fields and orchards before the harvesting of longan, sweet potatoes, mangos and jackfruit, to help farmers bring their produce into e-commerce platforms.
They also learn about the characteristics of farm produce so as to build packaging, preservation and transportation plans to fit the geographical conditions of different localities. This preserves the high quality of produce until they are delivered to customers.
For farm produce which does not require strict preservation, such as pomelo, durian and jackfruit, the company will pack the produce in cartons and specialized foam boxes and gather orders for the same routes for distribution within 6-48 hours.
Meanwhile, fruits difficult to preserve will be carried in specialized vehicles with cold storage to ensure freshness. 
Van Anh

As many more localities have controlled the pandemic and loosened social distancing to resume production and business activities, postal companies have designed scenarios for goods supply.  

On August 6, when it extended social distancing, Hanoi authorities divided the city's areas into green, orange and red zones.