One more big player joins Make in Vietnam security camera market
Unlike other services, this is the only security camera solution in the market with camera, internet service and cloud system provided by one supplier.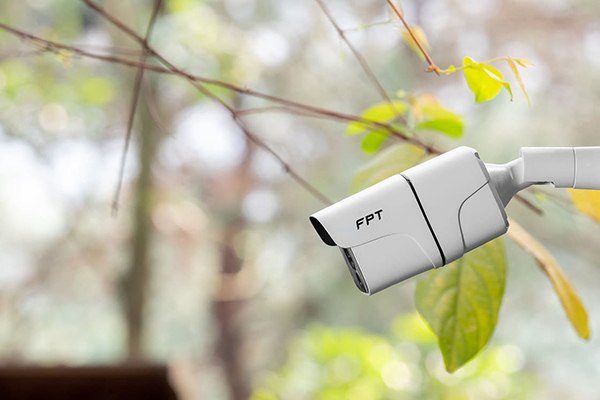 The Make in Vietnam security camera market welcomes a new comer – FPT Telecom with FPT Camera SME solution, targeting small and medium enterprises (SMEs).
"Make in Vietnam" is a slogan of a program promoting the spirit of designing, innovating and manufacturing products in Vietnam, especially technology products. The slogan has been created by the Ministry of Information and Communications (MIC) with the aim of promoting the domestic ICT industry.
From AI (artificial intellilgence) camera to internet service and cloud system at the data center, all are developed, integrated and deployed by one supplier – FPT Telecom. This is the difference and the advantage of the solution thanks to the supplier's telecom infrastructure.
There are two device options for FPT Camera SME. The first is an indoor camera with 102 degree lens, associated with wi-fi and 10m infrared. The second is 106 degree specialized outdoor camera that is 75oC heat resistant, dust and water resistant IP66 standard, 20m infrared.
Both Make in Vietnam camera models use a 1/2.8 inch image sensor with high quality image and Full HD 1080p resolution. The manufacturer also has added an IQ intelligent recognition feature for the outdoor camera version. Thanks to this, outdoor security cameras will be able to detect intruders.
AI on FPT Camera can differentiate between human and object's movements at a high accuracy rate of 99 percent. The images recorded by cameras will be analyzed in real time, giving prompt alerts if discovering intruders in supervision areas.
Users can choose storage packages and review the data within 1-45 days on demand thanks to the cloud service.
With the cloud service, users of Make in Vietnam cameras won't need to spend money on memory cards for data storage.
The data from cameras can be viewed online and reviewed with different devices with the latency of nearly zero and 2-layer encryption. The supervision and management of cameras can be implemented on mobile apps, computers, or TVs via FPT Play Box.
According to the developer, the security camera solution is especially suitable to chain businesses with many business establishments, factories, production facilities, real estate projects, residential areas, schools, hospitals or isolation areas. 
Trong Dat

The startup uses 3D scanner, 360 camera and drones to take pictures of showroom space, buildings and factories and then converts the data from physical to digital form.

Stocks of technology companies are selling very well in the Vietnamese stock market.