Number of downloads for Bluezone app is high, but many accounts go unused
Some cities and provinces have seen 35-40 percent of their population downloading the Bluezone app. However, the number of active accounts is not high.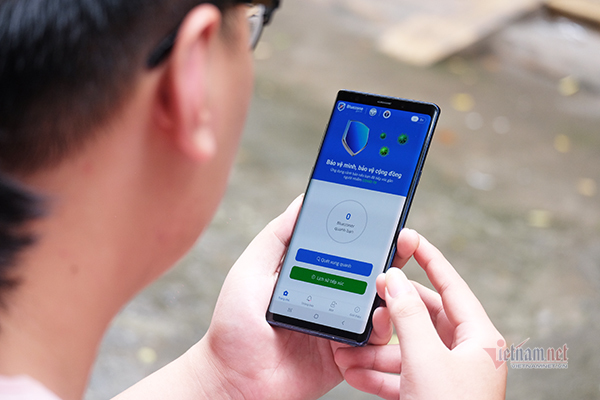 Bluezone is believed to be the most effective tracking solution in the fight against the Covid-19 pandemic. It discovers close contacts and makes it easy to find Covid-hit areas and apply measures to stamp out pathogens.
The latest report of the Authority for Information Technology Application (AITA) shows that as of May 24, there were 33.06 million Bluezone downloads, which meant an increase of 2.5 million Bluezone installations compared with April 28, when the fourth wave broke out.
Of the 33 million Bluezone users, more than 20.58 million people have entered their mobile phone numbers on the app. As such, the number of people providing their phone numbers to state agencies had increased by 1 million.
Hanoi and HCM City are leading the country in the number of Bluezone downloads, 3.1 million and 2.83 million, respectively.
Meanwhile, Dien Bien (70,500 downloads), Tuyen Quang (121,000) and Yen Bai (130,000) have the lowest numbers of Bluezone downloads.
If considering the ratio of downloads to population, Da Nang would be the leading locality with 43.7 percent, followed by Hai Duong (40 percent), Hanoi (38.6 percent), Quang Ninh (37 percpent) and Bac Ninh (34 percent).
However, the problem is that while the number of people who have downloaded the Bluezone app is high, the number of active accounts is low. They have downloaded the app, but have not used it.
In Hanoi, which had the highest number of downloads, the number of active accounts is 1.23 million, or 40 percent of total accounts. In HCM City, the number of real Bluezone owners (keeps Bluetooth operating) is 1.1 million, or 38 percent of total accounts.
The same is occurring in Da Nang (40 percent), Hai Duong (38 percent), Quang Ninh (38 percent), Bac Ninh (39 percent), Hai Phong (38 percent) and Thai Nguyen (38 percent).
No city or province has Bluezone users accounting for more than 50 percent of population.
This is a headache for management agencies as scientists have pointed out that Bluezone can promote maximum efficiency in fighting the pandemic if it is used by at least 60 percent of Vietnamese adults.
Hanoi, Bac Ninh, Bac Giang, Vinh Phuc and Da Nang authorities have called on people to use technological solutions, including making health declarations and installing the Bluezone app to contribute to the fight against Covid-19. This should also be applied in other cities and provinces. 
Trong Dat

Building urban infrastructure towards green growth is a necessary goal in the urbanization process, in order to adapt to climate change.

The number of people downloading and using Bluezone, a locally-made application to track down Covid-19, skyrocketed in Vietnam after the first several days of the latest Covid outbreak.