New approach to reduce plastic waste in Vu Gia-Thu Bon River

Up to 9.1 tonnes of potential plastic waste was being dumped into the Vu Gia-Thu Bon River basin, one of nine largest river systems in Vietnam, each day, equating to 2,600 tonnes each year.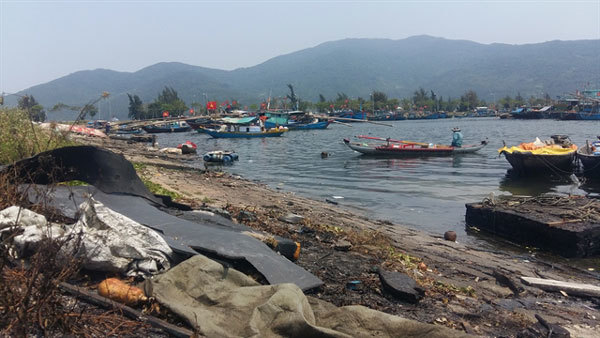 Plastic and solid waste at Tho Quang Fishing Port in Da Nang. At least 1,000 fishermen and fishing boats litter the water with waste.
The information was included in a report on waste management released by a group of experts at a workshop themed 'Foundations for Source-to-Sea Management: Addressing Solid Waste in Vu Gia-Thu Bon River Basin" in Hoi An late last week.
Vu Thu Ha from the International Union for the Conservation of Nature and Natural Resources (IUCN) said the survey was carried in 15 districts and cities along the river system from Quang Nam Province to Da Nang City in October 2019, and found that 10-25 per cent of all waste could end up in the water system each day.
"We estimate that the 2.1 million people living in the river basin area release 1,649 tonnes of waste each day, of which 236 tonnes is not collected. Uncollected plastic waste accounts for 38.6 tonnes of that, while only 2.1 tonnes of plastic waste is recycled," Ha said.
She said 70 per cent of the total waste released into the environment was household waste, while urban areas released 200 tonnes of plastic, and rural and coastal areas added 81 tonnes.
Ha blamed poor management of waste and treatment technology as well as a lack of funding for the situation.
She also suggested solutions for the problem from central Government to local authorities.
"An action plan is needed from the central Government to impose a tax on plastic, while encouraging businesses to convert to innovative technology. Zero plastic waste tours should be offered as well as promoting waste classification at source," Ha shared, adding that plastic waste banks should be set up at schools and tourism centres.
She applauded Da Nang and Quang Nam for discouraging single-use plastic bottles in offices, which had saved an estimated 66,000 plastic bottles per year at State agencies.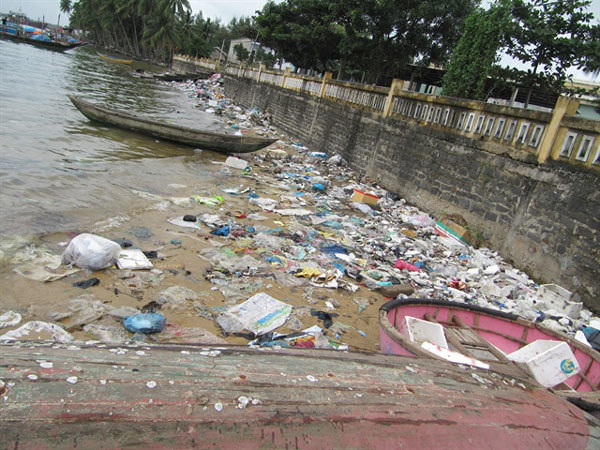 Waste washed up in central Quang Nam Province. The province is dealing with a plastic waste crisis in its waters. — VNS Photos Cong Thanh

She said the Government and local authorities should offer policies for alternative environmentally friendly packaging instead of single-use plastic bags, cups and straws.
Bui Thi Thu Hien from the IUCN said it needed policies and a legal framework to reduce the need for incinerators and landfill sites, as well as the involvement of the Government, local authorities and the community.
She said the IUCN had worked with local authorities in Quang Nam and Da Nang to introduce a coastal management system with the 'from ridge to reef' approach for the Vu Gia-Thu Bon River basin, and source-to-sea management – an opportunity for reducing mismanaged plastic waste in Vietnam from 2017-20.
She said the IUCN, in collaboration with the Stockholm International Water Institute (SIWI) and Quang Nam and Da Nang, had hosted a source-to-sea workshop with the financial support of the German Federal Ministry of Economic Co-operation and Development (BMZ) to introduce the benefits of addressing critical freshwater and marine challenges holistically.
SIWI recently launched a report on a source-to-sea framework for marine litter prevention, preventing plastic leakage from river basins, and is now piloting this approach with the IUCN in the Vu Gia-Thu Bon River basin.
Ruth Mathews from SIWI said strengthening knowledge to prevent plastic litter was important for more informed governance, financing and planning and management decisions.
She offered examples of strategies to reduce plastic leakage in river basins including community-based collection, supporting planning, investment and implementation, and a ban on certain single-use plastics.
A report from Da Nang's Department of Natural Resources and Environment showed at least 4,000 tonnes of rubbish from the sea washes up on the city's beaches every month during the rainy season (October to December).

The Ministry of Natural Resources and the Environment (MONRE) has decided that Vietnam has to control ocean plastic waste at source, on the mainland and on the sea.

To reduce the plastic waste released into the environment, especially to the ocean, HCM City has approved a project that encourages the recycling of waste, especially plastic waste picked up by private garbage collectors.
VNS