Nearly 4,000 plastic waste containers clogged in Vietnam's ports

More than 3,800 plastic waste containers have piled up for more than 90 days at Vietnam's three major ports of Hai Phong, Vung Tau and HCM City's Cat Lai, according to the latest report by Vietnam Customs.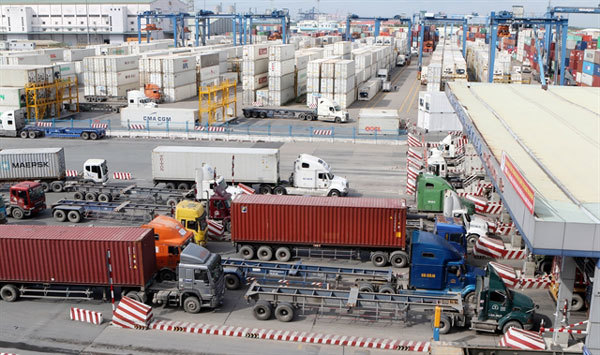 Trucks transfer container to HCM City's Cat Lai Port, the common hub of plastic waste imported into Vietnam. —VNA/VNS Photo Tien Luc
Hoang Van Thuc, deputy head of the Vietnam Environment Administration, said in total there are some 6,456 containers stacked at seaports containing plastic waste and used commodities.
The Ministry of Natural Resources and Environment has developed a regulation on classifying imported waste into six groups. Ministry of Finance and Ministry of Transport have also set barriers to force enterprises and ship owners importing scrap to submit certificates of eligibility for environmental protection and declaration forms indicating whether the importing enterprise is still operational and the specific import volume.
Thuc said MoNRE had filed a report on imported waste management to Prime Minister and would collaborate with related agencies to tighten control over scraps.
Prime Minister Nguyen Xuan Phuc has tasked the ministry to investigate the containers of plastic waste.
"For stocks which violate Vietnam's regulations, we will force ship owners to re-export them out of the country's territorial waters," said Thuc.
Since September 2018, Vietnam has shown positive signs in tackling waste container problem at seaports following Prime Minister's Directive No. 27/CT-TTg.
"503 containers of plastic waste, paper waste, metal scraps and other rubbish have been sent back to their origins due to failures to meet Vietnam's standards," Thuc added.
Vietnam Customs' data revealed a significant fall of the number of waste containers pilling up at ports across the country in 2019.
Until September 2019, 10,100 waste containers sat abandoned at ports, down from more than 22,000 at the end of 2018.

The Cambodian General Department of Customs and Excise (GDCE) on September 17 announced that all the 83 containers of plastic waste illegally imported into the country have been returned to their originating countries – the US and Canada.

Since May 2018, imports of scrap plastic have banned at major ports in Vietnam until further notice. In July 2018, the Vietnamese government announced it will no longer issue new license for plastic waste import.
VNS