"Make in Vietnam" key to Vietnam's target of high income by 2045
Nguyen Quang Dong, Director of the Institute for Policy Studies and Media Development, talks about Vietnam's efforts to master science and technology production to help it achieve the goal of becoming a high-income country in 2045.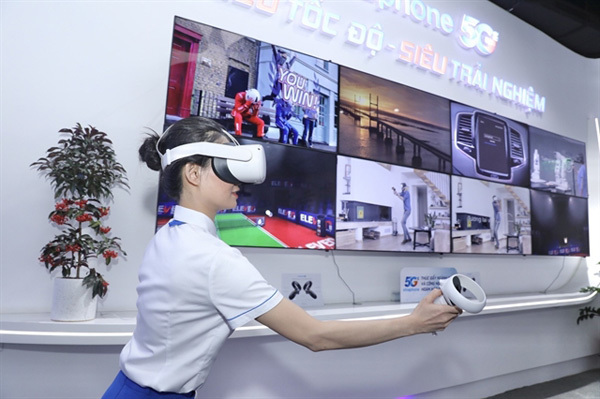 Vinaphone's booth for experiencing 5G products and services as the telecom group announced offering of 5G coverage in Hanoi and HCM City mid-December last year. 
The "Make in Vietnam" strategy that started a year ago has been seeing positive results. How has this strategy helped address Vietnam's existing problems via new technology?
Vietnam aims to become among the high-income group of countries and a prosperous, developed middle power by 2045, the year marking the 100th anniversary of its foundation and independence. To realise this goal, the digital economy is the most important driving force that will open up many possibilities.
It needs to be stressed that digital economy will be key to unlocking a hard puzzle that we haven't been able to truly solve after 30 years of open-door and 'đổi mới' (reforms) policy – labour productivity, which if left unaddressed would mire the country in the middle-income trap.
Vietnam is currently enjoying 'a golden opportunity' to create new breakthroughs in enhancing labour productivity and shake off the threats of the middle-income trap, thanks to its abundance of young, well trained and technology-savvy labour forces.
Of course, to get far with digital technology, we cannot rely on foreign technology. Vietnamese businesses, with its own homegrown products and digital solutions must make breakthroughs and solidify its leading role.
I can ascertain that if "Make in Vietnam" strategy succeeds, so will our 2045 goal.
Taiwan or South Korea pursued similar strategies 30-40 years ago and managed to bring comprehensive changes to their economies. Do you think Vietnam's implementation of this strategy at this point might have been a little too late?
If we consider that digital technology makes up a large part of the "Make in Vietnam" strategy then the opportunities are still ample and out there for us to seize.
In fields like manufacturing or electronics that are based on a strong and solid science and technology capacity as well as heavy investment into research and development, Vietnam does not have an advantage nor do we have the resources to play catch-up with the abovementioned countries. But the opportunities we have in digital technology – with its core being information technology which doesn't really require as much infrastructure investment – are wide open.
In addition, digital technology focuses on more of a good base of IT human resources, along with a large market of young people that are highly interested in new technology. The cycle of a product or a solution, from research to market deployment, is short and could enjoy capital support from venture capitalists.
These play to Vietnam's advantages.
There is also a healthy generation of Vietnamese intellectuals and business people who are teaching, studying or working in world's major technological centres like the US. In an increasingly 'borderless' world enabled by digital technology, Vietnam can totally rely on this community to contribute to its development.
In little over a year, "Make in Vietnam" strategy has spawned 38 Vietnamese-made technological platforms. How do you assess this result?
That's certainly an impressive start. The speed and innovation of the Vietnamese businesses showcased in these products bodes well for the future.
More importantly, the digital solutions and platforms have really penetrated deeply into economic fields – creating improvements in the efficiency of management, operations and productivity for businesses, especially in the banking-finance, e-commerce, tourism and education sectors.
On a macroeconomic level, this is even clearer when the Total factor productivity (TFP) index, which indicates economic efficiency, has shown distinct improvements in the last five years (2016-20) compared to previous periods. A very welcome sign, I'd say.
However, there is still the test of whether Vietnamese products can reach the global market. Taking over the domestic market is a must, but the measure for success in the future will involve global market penetration. At this moment, most Vietnamese businesses or their products haven't been able to do this, and more time is needed to see if they can. But on a macrolevel, support and orientations for businesses that have a global ambition and vision are critical.
How do you propose we change Vietnam's tax for technology/innovation businesses from the current collection of 15-20 per cent against their revenues, given that many countries are carrying out tax incentives?
It's true that our policy environment is not facilitating enough for businesses, in terms of tax, regulations and permits.
I think that tax incentives should only be extended to 'effective' businesses who have products and technology that are accepted by the market or ones that can reach the global market. Tax policies should be adjusted to ensure fairness between domestic technology businesses and their foreign counterparts, as well as businesses in other industries.
The more important thing, I believe, is more streamlined procedures to obtain business licences and permits, as currently, the complicated procedures and legal risks have caused many to opt to set up an entity based in Singapore instead of Vietnam.
Authorities are still struggling to deal with new emerging types of businesses given the unprecedented nature. Vietnam is only one in the six leading economies of Southeast Asia region to not have a regulatory sandbox to let companies experiment innovative solutions and products. I think this is much more important than tax incentives.
Addressing these issues is all within reach of the ministries but it requires stronger, well thought out coordination. On a macro-level, the Government's messages are always open and welcome, but the implementation level concerning ministries and agencies leaves a lot to be desired.  VNS/KT&DT

When solving the challenges of the 4.0 era and setting 'impossible' goals for themselves, digital technology businesses will help Vietnam grow significantly.

Vietnam has become one of the first countries in the world commercializing 5G on a trial basis. Software engineers have made a great contribution to the achievement as Vietnam's 5G network will use open standards.