'Make-in-Vietnam' Covid-19 maps used widely
Many Covid-19 digital map systems have been created to provide people with official updated information.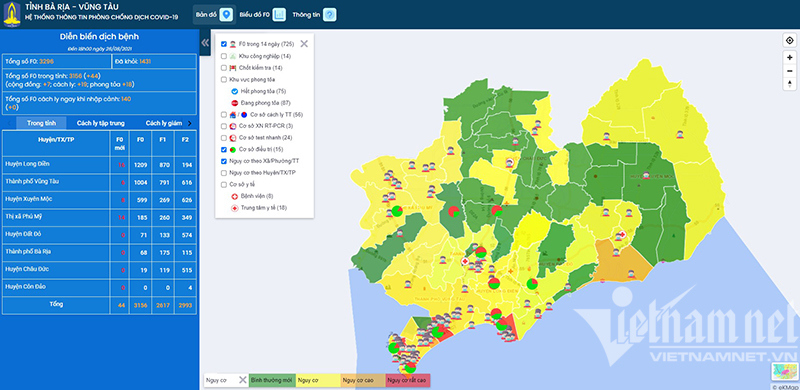 The Covid-19 map of Quang Binh province
In January 2020, after the first Covid-19 case was found in Washington State in the US, Ensheng Dong, a graduate student at Johns Hopkins University, created Covid-19 Dashboard, an online dashboard that visually depicts on a map the extent and rate of spread of the coronavirus around the world.
Similar Covid-19 dashboards have also been created in Vietnam to help control the pandemic, and provide updated information on the digital map.
Since mid-2021, many localities in the country have used epidemiological information mapping systems to provide information to the people.
These include Hanoi, Bac Ninh, Bac Giang, Vinh Phuc, Lang Son, HCM City, Dong Nai, Hau Giang, Tien Giang, Binh Phuoc, Long An and Ben Tre.
Most recently, eKMap, a digital map service provider, has developed a Covid-19 mapping system for many cities and provinces throughout the country.
This is a two-dimensional map which allows agencies to update and manage data about the Covid-19 pandemic on the digital map platform.
The maps help settle the fragmentation of information and avoid fake news.
The system provides information about pandemic performance management, vaccinations, testing and medical equipment and medical resources management.
The system also helps simplify medical staff's work of entering data, easing pressure on the healthcare sector and agencies.
The information comes from from daily reports of the CDC (Centers for Disease Control) and local healthcare departments.
eKMap is used in some localities such as Quang Nam and Ba Ria – Vung Tau. It has also been tried in Quang Binh and is going to be deployed in other provinces.
In the first phase, the developer will give assistance in data entry. After that, it will complete the data entry tool and transfer to the operator.
According to the development team, in Ba Ria – Vung Tau province has 3,000-8,000 followers a day at https://covid.baria-vungtau.gov.vn/.
In Quang Binh province, the Covid-19 map has attracted 30,000 new users on http://anticovid.quangbinh.gov.vn/.
If compared with other Covid-19 maps available, the system includes the locations and dates of reported infection cases. The information helps people better understand positive cases around them and apply timely preventive measures.
The map's tool of analysing infection risks on a commune scale fits the needs of management agencies. 
Trong Dat

About 20 technology platforms of the National Technology Center for Covid-19 Prevention and Control will be put on BugRank, a platform that detects security vulnerabilities.

Nearly 4,000 doctors and trained volunteers have joined 'Thay thuoc dong hanh' (Companion physicians) network to give support to Covid-19 patients in HCM City, Hanoi and Binh Duong province.