'Make in Vietnam' and the challenge of digital transformation
When solving the challenges of the 4.0 era and setting 'impossible' goals for themselves, digital technology businesses will help Vietnam grow significantly.
Can a traditional business produce digital products? According to Minister of Information and Communications Nguyen Manh Hung, this is completely possible.
Speaking at the National Forum for the Development of Digital Technology Enterprises, Minister Hung said that great businesses are different from normal ones in their ability to regenerate. Microsoft is proof when every 10 years, this group changes to reinvent.
There are businesses that make a law for themselves: self-regenerating every 10 years to create a new space of growth. Some businesses are forced to change by the changing environment. There are others that change due to the Make in Vietnam strategy. The thing to do is that they must actively regenerate.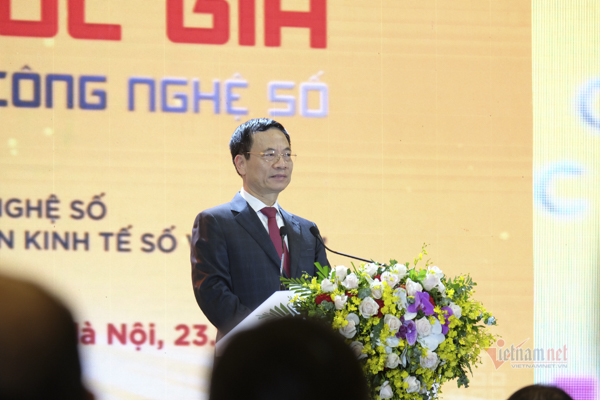 Minister Nguyen Manh Hung at the National Forum on the Development of Digital Technology Enterprises 2020. Photo: Trong Dat
According to Minister Nguyen Manh Hung, among all kinds of digital technology enterprises in Vietnam, tens of thousands of them specialize in product development even though they do not own core technology.
In this group, there are start-ups and also businesses that have been operating for decades, and when times change, they develop new products. There are also businesses that have been doing outsourcing from their first day, and thus can learn a lot. And when seeing the opportunity, they produce Make in Vietnam products.
Minister Nguyen Manh Hung quoted MISA as an example. This company specialized in selling accounting software, but it has changed for regeneration.
MISA has chosen to develop platforms to solve problems of Vietnam: helping companies even in remote areas hire accountants in the city. This is how the firm transforms the software of the IT era into software of the digital era (or platforms) at the country's call. In Vietnam, there are many such businesses.
The organization of the National Forum for the Development of Digital Technology Enterprises is a testament to the Government's action to promote the development of Vietnamese digital technology enterprises.
Every Friday, the Ministry of Information and Communications organizes a meeting to evaluate Vietnamese digital technology products. For big enterprises like MISA and FPT, this action is not necessarily important but it makes a lot of sense for small businesses which have 10 employees.
Mr. Nguyen Anh Tuan, CEO of VTGO, a truck-hailing app, said that 70% of trucks in Vietnam are always empty on the return side. The reason, according to Tuan, is the lack of connections among truck owners as most of them are individuals.
The CEO of VTGO said that the truck-hailing application is entangled with a policy issue, which is Decree 10/2020.
Article 35 of this Decree stipulates that all software and platform service providers are only allowed to provide these services to licensed transport operators. This regulation prevents 85% of Vietnamese truck owners from joining connection platforms. Thus, they cannot find orders for the return trip.
In response to Tuan's story, Minister Nguyen Manh Hung said that digital transformation means changing the operating model, which also means dealing with the law or changing institutions.
According to Minister Hung, many countries have piloted the sandbox model. If businesses face policy-related difficulties, we can approach the problem in this direction. However, to have a sandbox, we have to work with many ministries and agencies. The Government's intervention is necessary.
It is not easy for a small business with fewer than 10 employees to do this. The Ministry of Information & Communications will help all Vietnamese digital technology businesses with new business models that need to change institutions by piloting this model in a controlled manner (in a given space and time).
The Minister also noted that if digital technology enterprises want to change institutions, they must spend time studying institutional issues.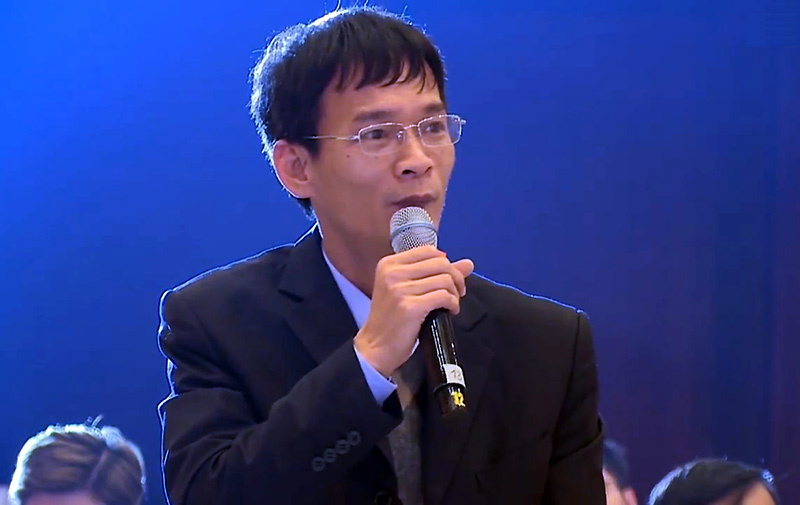 Mr. Nguyen Xuan Cuong, Chairman of the Vietnam E-Sports Association (VIRESA), has proposed using Make in Vietnam terminals and 5G equipment to serve e-sport events at the upcoming Southeast Asian Games. Photo: Trong Dat
He said that Vietnam lacks an investment fund for innovation. Several big firms have agreed to set up a risk fund for Vietnamese enterprises. Besides foreign capital, this will be an important source of capital to help start-ups solve Vietnam's problems.
Sports in developed countries is an economic industry. Sports is currently one of the 10 largest businesses in the US and contributes about 2.4% of GDP. It is similar for the UK, Germany and France, as the sports industry contributes greatly to the economy.
In Vietnam, sport is not an economic sector; its contribution to GDP is very small. However, according to Mr. Nguyen Xuan Cuong, Chairman of the Vietnam E-sports Association, we can gradually change this picture through digital transformation in the field of sports.
Next year, eSports will be one of the SEA Games' events, and the Vietnam E-sports Association wants athletes to compete on Make in Vietnam platforms and 5G terminals developed by Viettel and Vsmart. This will be a way to promote Make in Vietnam products to ASEAN countries.
Minister Hung said that eSports is a potential investment field and that Vietnamese carriers have officially launched 5G commercial trials. 5G Vsmart phones may be ready in Q1 2021. Therefore, it is entirely possible for E-sports athletes to compete at the SEA Games using the Make in Vietnam 5G network.
Trong Dat

At the National Forum on Developing Digital Technology Businesses 2020, Deputy Minister of Information and Communications Phan Tam read a letter from Prime Minister Nguyen Xuan Phuc to the Vietnamese digital technology business community.

The government considers the development of telecommunication infrastructure and IT as one of its top priorities.